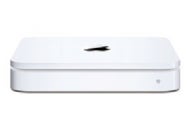 Apple says it will repair or replace Time Capsule models that either shut down unexpectedly or don't power on at all, according to a Knowledge Base article the company posted late last week.
The models affected were sold between Feburary and June 2008. Apple says affected models of its backup device may shut down unexpectedly or worse—no longer power on.
Apple's advisory is not an official recall, per se—the company is only asking for those with affected units, rather than every device within the time frame. The Knowledge Base article covers Time Capsules with serial numbers XX807XXXXXX – XX814XXXXXX. (Apple also has a handy guide to finding a Time Capsule's serial number if you don't know where to look.)
According to the company, devices that fall into the serial number range and time frame can be brought into an Apple Store or other Authorized Retailer, where—if the problem is confirmed by the staff—Apple will repair or replace it free of charge. If you want to keep the data from the hard drive, Apple's official word on the matter is that it will provide "options depending on where you live." Users in the U.S. and Japan are advised to mail the device to Apple—turnaround time is estimated at "3 to 5 days"—whereas all other countries can have data transferred from the old Time Capsule to the replacement in-store. Of course, if you have the ability to transfer the data to another hard drive yourself, it might be the better option.
If you had this issue earlier, and paid for a repair or replacement Time Capsule, Apple advises you to call the company to discuss a possible refund.
Now, if your Time Capsule falls within the range of dates and serial numbers, but isn't exhibiting any symptoms, there's no need to rush to a Genius Bar just yet. This replacement program covers affected models three years from the original date of purchase, so if the Time Capsule you bought in February 2008 starts having power issues in a few months, you'll have until 2011 to bring it in. And if your device falls outside the range but is exhibiting similar issues, it can't hurt to get it checked out: Apple says it will "evaluate the service data and will provide further updates to the program if needed."
Note: When you purchase something after clicking links in our articles, we may earn a small commission. Read our affiliate link policy for more details.