Editor's note: The following review is part of Macworld's GemFest 2010 series. Every day from mid July until the end of August, the Macworld staff will use the Mac Gems blog to briefly cover a favorite free or low-cost program. Visit the Mac Gems homepage for a list of past Mac Gems.
You'd be forgiven for thinking that the biggest differences between calculator programs for Mac OS X are found in the functions they offer and the way their buttons are laid out. Soulver, on the other hand, aims to change the way you make the calculations themselves. Although you can type traditional mathematical equations, such as 365 x 24 x 60, into Soulver's list-like interface, the program is unique in letting you also use something approaching normal language.
For example, if you're trying to figure out the price of a $199 product at a 15% discount, you can just type 15% off $199. To convert currency, you can type $50 in Yen. To convert time, type 5 minutes 18 seconds in seconds. A handy Total display shows the sum of all the current window's answers.
If you're a spreadsheet pro, Soulver can also reference results by line: 18% of line7 calculates 18% of the result from line 7. You can even drag answers from the answer column to another calculation line, and you can edit existing lines to get updated calculations. Creating temporary variables, which can be used in subsequent calculations, is as simple as typing x=73.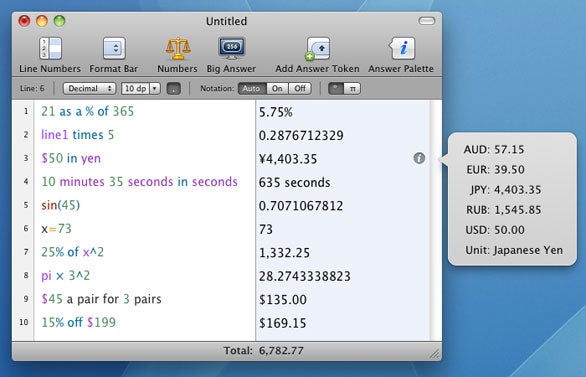 Editable tables of stocks, currencies, and permanent variables let you easily insert that data into your calculations using obvious abbreviations (for example, you can use Apple's current stock price in calculations by typing AAPL); syntax coloring makes it easy to see which text is numerals, which is operators, and so on; and a nifty Answer Palette displays your answer in alternate formats.
Finally, you can include labels, section names, comments, and text within your calculations, which is useful when saving a Soulver window, or exporting it to another format, for later reference.
Want to stay up to date with the latest Gems? Sign up for the Mac Gems newsletter for a weekly e-mail summary of Gems reviews sent directly to your Inbox.
Our 186-page Mac Gems Superguide is a veritable greatest hits of Mac Gems. It's available as a PDF download, PDF on CD-ROM, or as a printed book. Learn more about the Mac Gems Superguide.
[Dan Frakes is a Macworld senior editor.]