There's really not much to say about Utopian Games' Ghost Bash that you can't gather from its title: ghosts are escaping from a graveyard, and it's up to you, brave ghost-basher, to pop them on the head before they make it off the screen. If they do make it free of the screen, you'll have to start over. That's about it. The graveyard is your shooting range, your finger your weapon, and the ghosts your target. Bash away.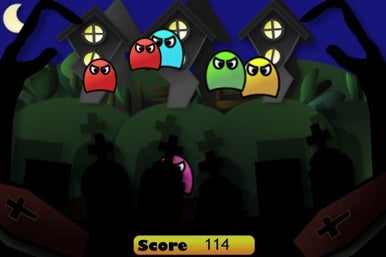 Sure, Ghost Bash has cute, colorful graphics, playfully spooky music, and ghosts that look like the ghouls of Pacman fame. Consequently, it's a terrific game for kids – the gameplay is very straightforward, as is the objective. A leaderboard keeps track of how many ghosts you've clobbered and pops up every time you start a new game. There are no complicated controls, you simply touch the screen where the ghosts emerge, and -presto!- ghosts busted. Plus, at $1, you won't be breaking the bank if you decide the game isn't for you.
That being said, Ghost Bash doesn't have any staying power. The graphics are plain and relatively boring, the background doesn't change, and it's pretty easy to bash those poor, hapless ghosts. The game's speed and difficulty do increase as your kill count rises, but by the time you get there, you've lost interest.
Variety is needed not only in the levels and backgrounds, size and appearance of ghosts and their relative speeds, but also by adding important features such as a multiplayer option, flashier graphics, or a back story. Still, I'm not sure the game's premise holds enough water to make these additions worthwhile.
Until this game becomes affiliated with the Ghostbusters franchise, I would stick to Whack-a-Mole. However, for a fun, violence-free bashing game for your kids, Ghost Bash is perfect.
[If there's something strange in your neighborhood, Rip Empson is who you're gonna call.]