E-mail is an essential tool for many of us, which is probably why Apple launched its MobileMe Web app revamp with a significant Mail upgrade. However, scheduling appointments and to-dos often go hand-in-hand with e-mail, so it's little surprise that Apple last week announced a private beta for Calendar, its Web-based counterpart to iCal. The new version brings a number of new features and a major redesign to Calendar, and I was able to pencil in some time to take it for a spin.
iPad is in
The most significant change to Calendar is its new interface; if you've picked up an iPad in the last few months, you'll probably experience a little déjà vu. Calendar still employs the typical three-pane approach (a list of calendars on the left, events in the middle, and to-dos on the right), but Apple gave it much of the same iPad-inspired treatment that Mail got in May.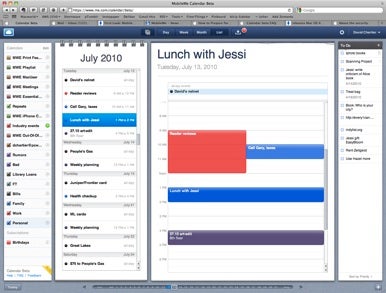 The new Calendar inherits the iPad's List view for events. This view displays events in a straight chronological list in one column, with a single-day column to the right containing an hourly play-by-play for the currently selected day. Like the Archive button that Apple added to its Mail Web app, this is another case of Apple bringing new features to the Web before the Mac—iCal has no such list feature.
More iPad-ness is sprinkled throughout, ranging from useful features to subtle interface polish: notebook wires at the top of the List events column; a dedicated New Event button in the lower right; snippets of torn-off pages at the top of the events and to-dos panes that hint at previous weeks and months; and the slider at the bottom of all views for quickly shifting between days, weeks, and months.
The Day view is the only other interface mode that sees a significant redesign. It now mimics a two-page day planner layout—a view which, once again, is borrowed from the iPad's Calendar app. The left page features a small 30-day calendar at the top and a straight list of the day's events, while the right page displays events by hour.
MobileMe Calendar's interface is also a little more flexible. You have long been able to hide or show the to-do list on the right, but now you can also hide the list of your actual calendars on the left. This leaves more room for the event pane in the middle to spread out in day, week, month, or list views. It's a great way to focus on the what and where of your day.
Co-op-er-a-tion, makes it hap-pen
For as long as I can remember, criticism of MobileMe's calendaring has almost always cited a lack of collaboration features. , Despite its arguable deficiencies in interface design, Google Calendar's launch in 2006 certainly didn't help matters either, especially since it offered calendar collaboration for free.
Apple has finally answered this call for collaboration, but it might not please everyone. Thanks to Apple's shift to CalDAV for its MobileMe calendar, the beta allows you to share calendars with other users and selectively allow read and/or write access—but only with other MobileMe members. You can still publish a read-only calendar that anyone can view or subscribe to with iCal, Google Calendar, and Outlook. But you can only grant editing abilities to other MobileMe members.
That said, Calendar's new collaboration features are quite useful, though arguably incomplete (of course, it is worth noting that it's still in beta). Each calendar listed on the left now has a sharing icon next to it. Clicking this icon presents an iPad-like "popover" window containing two sharing features: Private Calendar and Public Calendar.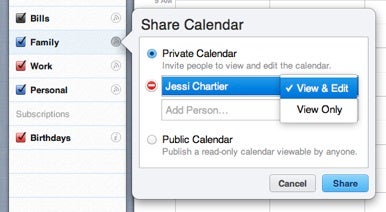 Private Calendar offers a text box into which you can type names or e-mail addresses in order to invite people to view and edit the calendar. If you invite someone with a non-MobileMe address, you will receive a warning that they will need to join this calendar using a MobileMe account, or sign up for one. You can also opt to receive an e-mail every time one of your collaborators changes an event.
With the introduction of collaborative editing, Apple has also answered a long-time request of users of MobileMe's Web-based Calendar app: event invitations. You can now invite others to an event regardless of their e-mail service allegiances. Recipients will receive a well-designed, rich HTML invitation with embedded options to accept, decline, or choose "maybe." Clicking any of these options opens a dedicated event page reflecting your answer, as well as the meeting details and a downloadable iCalendar file for adding to your calendar app of choice.
Interestingly, once I opted into the MobileMe Calendar beta, I no longer received e-mails for new event invitations. Now, MobileMe seems to silently gobble and convert them into new invitation notifications which you must answer from MobileMe Calendar or iCal. Both apps will display a red badge on their notification button, prompting you to take action.
One quirk of Private Calendar collaborative editing is that Calendar does not display who created an event. Further, during edit tests with a friend, I found that e-mail updates for changes took up to 10 minutes to arrive in my inbox or reflect in either iCal or MobileMe Calendar on the Web.
Public Calendar is the same feature that MobileMe Calendar and iCal have offered MobileMe members for some time—enable this option and the calendar becomes public (but read-only). The popover will display the calendar's public URL and an "Email Link…" button for easy sharing, and anyone can view the calendar in an iCalendar-friendly app.
Calendar's sharing and editing features seem to be limited—you can either allow specific individuals to view and/or edit a calendar, or you can make a calendar public, but read-only. You cannot, for example, share a calendar publicly and allow specific individuals to edit and create events on it with you. This might dampen the hopes of small businesses or organizations of using the new MobileMe Calendar to organize events in a collaborative environment. On the other hand, these simple collaborative editing features should make most individuals and families—two of the clear target demographics of MobileMe—fairly happy.
Caveats
Unlike the MobileMe Mail beta, users should probably spend a little more time making sure they want to help test the Calendar beta. As we previously covered at the announcement, Apple's shift to CalDAV for MobileMe Calendar means that some third-party apps may not be compatible yet; BusyCal was the first to confirm as much. This incompatibility is annoying, but probably only temporary: if you use BusyCal and opt to help test the MobileMe Calendar beta, your calendars will be read-only in BusyCal until the company releases a free update.
Subscribed calendars are also not supported yet. The exception right now is the optional "Birthdays" calendar that Apple kept in Calendar's preferences. This probably isn't really a subscription in the traditional sense, though, as this calendar is built from any birthdays that you have added to your contacts.
If you own an iPhone, iPod touch, or iPad, you may need to manually configure some settings to let those devices continue accessing your calendars once you opt into the beta. iOS 4 supports CalDAV under MobileMe accounts, so if you are already syncing your calendars with your iOS 4 device, you should be all set. iOS 3, however, does not support CalDAV under MobileMe, so Apple provides instructions for setting up such devices (this includes the iPad, which currently runs iOS 3.2).
One source of potential confusion when first getting into the MobileMe Calendar beta is that any existing calendars must be upgraded to support the new CalDAV protocol. The Web app displays a progress bar as it converts your calendars, events, and to-dos, but this conversion might be a little jarring on the Mac.
iCal will only find out about the calendar format upgrade the next time your Mac syncs with Apple's MobileMe servers. If you set your sync to occur once an hour or once a day, the change probably won't happen right away. When it does, all of your existing calendars will quite literally disappear from iCal. If all goes well, they will quickly be replaced under a new section named after your MobileMe address.
(A little) Trouble in paradise
The only major drawback that I've been able to discover so far is that neither MobileMe Calendar on the Web nor iCal will support calendar groups (or "folders") once you opt into the beta (any calendars in groups will be moved to the main tier of calendars—they will not be deleted, but the empty group will be). If you have a lot of calendars and depend on groups, this may be another reason to pause before hitting the beta upgrade button. Fortunately, Apple's language in its known issues documentation suggests that groups will return.
Another hangup that some users have with the MobileMe Calendar beta is that it requires Mac users to be running Mac OS X 10.6.4 Snow Leopard and, by extension, an Intel Mac. This requirement is because 10.6.4 provides automated support for Push Notifications, and Apple wanted to provide the best experience for users transitioning to the new MobileMe Calendar.
My one final complaint about the MobileMe Calendar beta can also be applied to the new Mail Web app: Apple changed and removed some of the keyboard shortcuts. Calendar's current version offers all sorts of key combinations for tasks like creating new to-dos and snapping back to the current day, but the Calendar beta loses some (like Go To Date and Show/Hide To-Dos) as well as having the shortcut labels stripped from the drop-down action menu. While there's not currently a complete listing of all available shortcuts, you can find references to many sprinkled throughout Calendar's Help files.
A worthy upgrade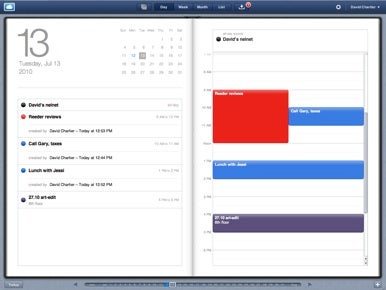 I will echo what my colleague Dan Moren said in his MobileMe Mail beta first look: considering Apple's previously and seemingly apprehensive attitude towards Web apps (after all, it has traditionally been a hardware and desktop software company), any upgrade to MobileMe's Web apps is typically welcomed with open arms simply by default.
I am not a particularly heavy calendar user, but despite my gripes over some lost features (which admittedly may return later), I find myself pretty happy with Apple embracing rich Web apps. In the past, when I have found myself away from my Mac and iPhone, I've resisted firing up a Web browser; more often than not, I found myself thinking "I'll just add it to iCal when I get home."
While I'm not planning to replace iCal with this new Web app anytime soon, I do find it to be an acceptable substitute when the real thing isn't available. Between the familiar, iPad-like interface and sharing features that finally let me collaborate without third-party add-ons, I'm happy to use MobileMe Calendar when I'm away from my Mac or when I don't feel like starting up iCal on my MacBook Pro.
Perhaps most importantly, like Mail's revamp before it, MobileMe Calendar finally feels like a Web app that is on its way to being worthy of Apple's name for general quality, focused features, and polished experiences.