Editor's Note: The following article is reprinted from PCWorld.com.
What a difference a display can make. All it took was turning on the Amazon Kindle DX (Graphite) second-generation large-format e-reader to see that Amazon's claims of a higher-contrast display than its predecessor were true. The E-Ink display on the new Kindle DX ($380, price as of 7/9/2010) indeed reflects a significant improvement in contrast, as evidenced by the clarity of the crisp text, and the darker blacks of graphics and words alike.
The blacks, in fact, truly look black; by comparison, the blacks on the original Kindle DX appear dingy and gray. Words on the Kindle DX (Graphite) appear to jump off the page, as you can see in this side-by-side photo. Unfortunately, the darker text means that you can also more clearly see the jaggies in the default, and only, text font of the Kindle DX (Graphite), at least at the default third font size. The Kindle DX (Graphite) has a lighter, more solid background to its E-Ink display than its predecessor. Where the original Kindle DX appears to have a patterned, very newspaper-like background, the new Graphite version appears lighter in color, with less distinct patterning.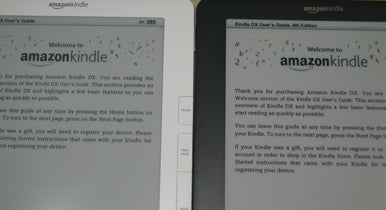 Also of note is the Kindle DX's new cosmetics. The unit is housed in a dark gray ("graphite") case, as opposed to the off-white case of the original Kindle DX and Kindle 2. I have to say I prefer the darker chassis. While this model clearly also boasts the better display, in general I find the reading experience enhanced by having a dark border around the e-reader. Most e-readers, including the Barnes & Noble Nook and the Kindle 2, are light-colored; but of those I've used that have light and dark varietals ( Aluratek Libre eBook Reader Pro, Spring Design Alex eReader, and now Kindle DX), the dark version consistently provides the easier-on-the-eyes reading experience.
To fully gauge the impact of Amazon's enhancements to the Kindle DX—including how it performs in sunlight—I'll be spending some quality time with my imagination this weekend, curled up with a Kindle. In the meantime, if you were holding off on buying the new Graphite version in order to get the skinny on the screen, well, wait no more: On first blush, it's impressive.