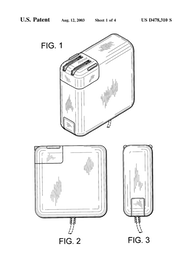 If there were ever a question of how much effort Apple put into the little things, it can now be laid to rest: last week, the company launched a suit against three different computer sellers for selling knockoffs of its power adapters.
According to Bloomberg, the case, filed in the U.S. District Court for the Northern District of California, alleges that the three companies—Brilliant Store of Fremont, California; Sunvalleytek International of Santa Clara, California; and Hooto.com of Santa Clara, California—infringed upon patent D478,310, an August 2003 filing that covers the ornamental design of Apple's seemingly ubiquitous white brick.
Apple says in the filing that it has suffered "irreparable harm" from the sales and has requested that the court grant an order preventing any future infiringement as well as monetary damages and litigation fees.
If the companies in question are truly selling knockoff products, the case would seem to be cut and dried—that would be a refreshing change from the apparently endless parade of strategic patent suits filed by Apple and its rivals over the past several months.