Maybe it's sunny skies wherever you're starting your summer road trip, but what kind of weather conditions can you expect on the way from Point A to Point B? And when you do arrive, where can you expect to park?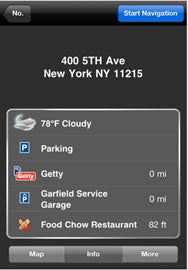 The latest version of MobileNavigator North America looks to answer those two questions while making things even easier on iPhone-toting travelers. Version 1.6.0 of Navigon's GPS navigation app for the iPhone, added to the App Store over the weekend, adds live weather and parking information along with other at-a-glance data about your final destination. In addition, MobileNavigator 1.6 also features iOS 4 compatibility, allowing iPhone 4 and 3GS users to run other apps at the same time they're getting directions from the mobile GPS program.
The app's new Live Weather updates deliver real-time weather conditions along your route and at your final destination. Temperature and weather condition icons appear in the app's route overview screen. You can also access a three-day forecast from MobileNavigator.
The parking feature, dubbed Clever Parking, lets drivers know what parking options await them at their final destination. As they get closer to their stop, a tappable "P" icon appears that access a scrollable list of available parking options.
Other features in MobileNavigator 1.6 include a Destination Information Display, which provides a customizable at-a-glance overview of information about your destination; Pedestrian Mode Guidance, for voice directions and voiceover menu guidance when you're on foot; and enhancements to the app's Reality View 3D road views.
iOS 4 compatibility lets iPhone 4 and 3GS users take calls when MobileNavigator is running—voice-guided turn-by-turn directions turn down so only the driver hears them. The app also runs in the background when you access other iPhone programs, so route information is continually updated. In addition, Navigon says version 1.6 features enhanced Retina display buttons and icons for iPhone 4 users.
Normally available for $80, MobileNavigator's price has been cut to $50 to mark the 1.6 update. Navigon says that sale will continue for 12 days after MobileNavigator 1.6's launch. Navigon has also made its MobileNavigator US MyRegion offerings for the east, central, and west available for $18. (They normally cost $30). Additional regional maps are available via in-app purchase for $13 each, down from $15.