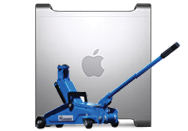 AppleJack, the popular Eddy award-winning troubleshooting tool, has finally added compatibility with Snow Leopard in the release of version 1.6.
Macworld's own Dan Frakes reviewed AppleJack 1.5 when it was released for Leopard, and the new version adds only minor features—aside from the fairly crucial ability to run on the latest Mac OS X. As in earlier versions, AppleJack is a command-line utility that can save your bacon if your MacBook dies far away from home, your OS X install disks, or a Genius Bar.
Using AppleJack is pretty easy: boot your Mac into single-user mode by holding command-s at startup, then type "applejack" at the command prompt. You'll be provided with a menu of options you can use to get your Mac back in fighting shape, including disk-checking, cache cleanup, and RAM testing (if you install the optional memtest utility). An expert menu provides more options, some of which are still in the experimental stage. Complete documentation is accessed by typing "man applejack" at a Terminal prompt.
AppleJack is free, but donations are accepted via Paypal. Version 1.6 runs on any Mac OS X from Tiger (10.4) on up; folks running Jaguar or Panther (10.2 and 10.3) can still download an older version for their Macs.