Editor's note: The following review is part of Macworld's GemFest 2010 series. Every day from mid July through August, the Macworld staff will use the Mac Gems blog to briefly cover a favorite free or low-cost program. Visit the Mac Gems homepage for a list of past Mac Gems.
With iCal, Google Calendar, and the classic wall-mounted calendar, you might be wondering whether or not there is a real need for yet another calendar application like PreMinder. After all, how many different ways does a person need to know that it's a Monday?
With PreMinder however, knowing the date is just the beginning. Not only can you customize how to view your calendar (from daily, to fortnightly, to even a month and a half-ly), you can set different fonts, colors, and styles to the events you pencil—er, I mean type in through a toolbar setup.
PreMinder can import events from your iCal and birthdays from your Address Book. There's also an option to add pictures to your events, just in case it's your co-worker Bartholomew's birthday, only you can't remember which one is Bartholomew. .
Because it works with the Growl ( ) alert software, remembering an event is effortless thanks to the many options PreMinder can enable. From chiming an alarm to opening your browser to a specific Website, PreMinder makes it difficult to forget an event or task.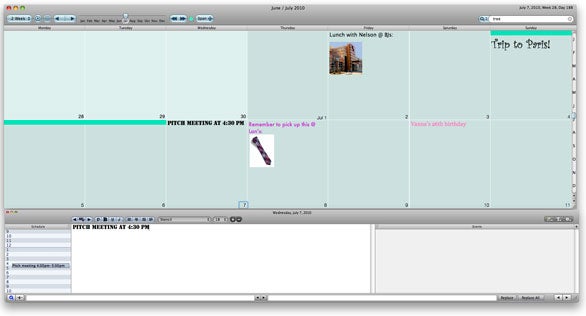 There are also a lot of small treasures in this software that are not very essential, but lovely nonetheless: namely, the fact that you can scroll through the months of the year (who knew clicking was so bothersome?) and you can use a banner to mark events that span across several day. Google Calendar has the same feature, but PreMinder is not held down by the "one color for one calendar" restriction its Google counterpart has.
There are a few complains to be had though. For the times when you want to open a simple calendar, the interface can get a bit cluttered and overwhelming. And with all of the customization options, things can start to look messy, which is the last thing you want when organizing your day. Overall however, the freedom of choice PreMinder allows users is worth noting.
Want to stay up-to-date with the latest Gems? Sign up for the Mac Gems newsletter for a weekly e-mail summary of Gems reviews sent directly to your inbox. You can also follow MacGems on Twitter.
Our 186-page Mac Gems Superguide is a veritable greatest hits of Mac Gems. It's available as a PDF download, PDF on CD-ROM, or as a printed book. Learn more about the Mac Gems Superguide.
[Lynn La is a Macworld assistant editor.]