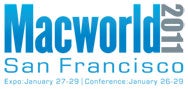 It may seem a little early to have 2011 on the brain, but January 26, 2011—the start of next year's Macworld Expo in San Francisco—will be here before you know it. To that end, event organizers IDG World Expo have opened up Expo-only registration for the 2011 event. If you register before July 26, it's free.
Macworld Expo will be held once again at San Francisco's Moscone Center. The annual Mac trade show runs from January 26-29, with the expo portion of the event opening its doors on January 27.
If you're thinking about attending, you'll want to register soon—starting July 27 up until January 25, expo-only registration will cost $25, and from January 25-29 registration must be on site and will cost you $50.
Conferences at the January 2011 event require separate registration. Conference packages and pricing info won't be available until October, but you can request to be notified when the info goes online.
Disclaimer: Both Macworld Expo organizer IDG World Expo and Macworld are owned by International Data Group.