At a Glance
Expert's Rating
Our Verdict
Editor's note: The following review is part of Macworld's GemFest 2010 series. Every day from mid July through August, the Macworld staff will use the Mac Gems blog to briefly cover a favorite free or low-cost program. Visit the Mac Gems homepage for a list of past Mac Gems.
Flickr now has four billion photos available, many of them with a Creative Commons license that lets you use the images for a Website or brochure (sometimes for non-commercial use only). Viewfinder is an indispensible tool for searching Flickr because you can not only see the results in an easy-to-browse window, but you can then download the images or even export them to Keynote as a slideshow.
One of the key features with Viewfinder is it speed. When you type in a phrase such as "world cup" or "outdoor river" you will see thumbnails in about one or two seconds. A slider on the lower-left lets you adjust thumbnail size, and you can click on filters to see by license type, relevance or date, or the picture size up to 1500 pixels.
For photographers looking for stock images, Viewfinder is rather amazing. It's easy to find that one picture of a kid playing soccer you really need for a brochure. You can command-select images and download them as a group. The app also has a large size preview for thumbnails. You can configure the app to show image details, such as photographer and date.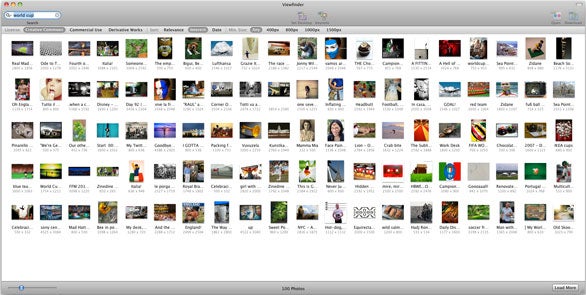 The more specific the search term the better. For example, if you search for "beach volleyball" you will see thousands of images. (Viewfinder shows 100 images at a time by default, or 500 at most.) However, you search for a specific volleyball player and at the term "beach" you will see a smaller set.
Viewfinder does not work with other image archives, such as Picasa. And, other than Flickr's only NSFW (not safe for work) filters, there is no way to filter out adult or inappropriate content.
Want to stay up-to-date with the latest Gems? Sign up for the Mac Gems newsletter for a weekly e-mail summary of Gems reviews sent directly to your inbox. You can also follow MacGems on Twitter.
Our 186-page Mac Gems Superguide is a veritable greatest hits of Mac Gems. It's available as a PDF download, PDF on CD-ROM, or as a printed book. Learn more about the Mac Gems Superguide.
[John Brandon is a 20-year veteran Mac user who used to run an all-Mac graphics department.]