This may come as a surprise, so you may want to sit down: iPhone 4 cases are coming fast and furious. Instead of flooding our news headlines by covering them one-by-one, we're taking the same approach we used with iPad cases by doing periodic roundups. So let's get on with it, shall we?
BodyGuardz
BodyGuardz is prepared, of course, with front, back, and full-body protectors for the iPhone 4. Priced at $15, $17, and $25, respectively, these protective films should keep the iPhone 4's aluminosilicate glass smudge- and scratch-free. It's worth noting that the full body protector is the only one that comes with film for the iPhone 4's sides, where its metal antennas are located.
Case-mate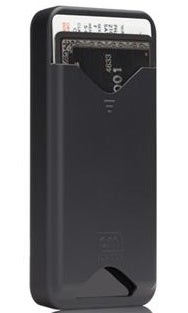 This staple of the iPod- and iPhone-accessory world already has a few iPhone 4 cases available, most in a variety of colors and patterns. The Vroom ($15) is billed as a "premium silicone" case with a screen-protection kit (which, I assume, is a clear film) and, for those who want that recently-run-over aesthetic, a "unique tire tread pattern" for optimum grippiness. The Gelli ($20) is made of lightweight thermoplastic in various brightly colored patterns and also includes the screen-protection kit.
Case-mate cases that should arrive by Q3 or Q4 include the Lisboa, a "stand-out-from-the-crowd" case that is made of real cork overlaid on a metallic core to reveal hints of bronze, gold, or silver. The Barely There 2.0 is a new version of the company's best-selling super-thin case, made of protective ABS plastic with organic materials or finished fabrics on the outer layer.
The Reina will be aimed at those who house "inner divas," as it is said to be adorned with certified Swarovski crystals. The Rangoli celebrates the spirit of India with a pouch made with traditional Indian textile crafts, including a ring for attaching keys. Pop! (yes, exclamation mark included) sounds like a standard protective shell, though with a soft thermopolyurethane (TPU, same as on soccer balls) interior. The Ivy ($30) goes floral with a raised "whimsical and romantic" design in a variety of summer colors. The Medley ($35) also features TPU blended with polycarbonate with a grippy, square-textured design.
For the active exerciser (or perhaps just the chronic iPhone dropper) in you, Case-mate has the Torque ($25), featuring a double-injection-molded silicon build and a symmetrical tired tread pattern. The ID Credit Card Case ($35) is 2mm thicker than the Barely There Case, yet feature a low-profile slot on the back for (you guessed it) an ID, credit cards, or cash. The Decathalon (yes, apparently intentionally misspelled) features a neoprene armband for taking your iPhone 4 on a run, bike ride, or hike. The Hybrid Tough is a silicone skin wrapped in an ABS plastic shell which comes in 24 color combinations.
But wait, there's more from Case-mate: the I Make My Case will let users customize a Case-mate case with artwork from the I Make My Case service. The DIY is a similar offering, but lets you upload your own photo or artwork to customize a case. Case-mate is also putting the finishing touches on a couple of battery solutions that will range in price from $60 to $100. The Fuel Lite is a slim, light case that adds two extra hours of life to the iPhone 4, while the Fuel Max is a slightly thicker case that offers a whopping 2.5 times the capacity of the iPhone 4's own battery.
GelaSkins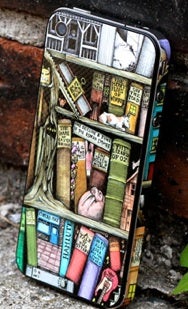 Sometimes all you need is just a little protection—and a ton of style. For those times, GelaSkins is ready with its iPhone 4-optimized skins that feature art from all over the world. For $15 you get a highly adhesive (yet easily removable) skin that covers the front, back, and even sides of your iPhone 4. GelaSkins are one of the slimmest ways to both protect your phone from scratches and avoid the Grip-of-Death reception attenuation.
Griffin
This mass-market accessory maker needs no introduction, and it is already shipping four cases for the iPhone 4. The Elan Holster Metal is a $35 horizontal holster with a built-in clip, metal accents, and your choice of a couple internal fabric styles. The Elan Passport Wallet is a $40 bifold wallet with a flip-over cover to protect the iPhone's display, as well as slots for bank cards and IDs. The Platinum version has a security wrist lanyard at the same price as the black leather version.
Griffin's Reveal Etch is a $30, 1.6mm, black-polycarbonate shell with rubber accents. The Reveal is essentially the same case without the rubber accents for only $25. Finally, While not technically a case, Griffin's Screen Care Kit is also worth a mention since it comes in four versions: Matte ($20), Clear ($20), Mirror ($15), and 2-Way Privacy ($25).
Hard Candy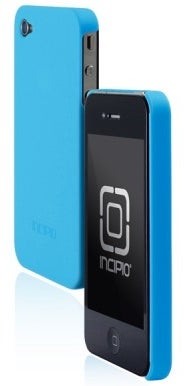 This Apple-centric accessory maker is already shipping a number of iPhone 4 cases, including the Superlight ($35), a (you guessed it) super-light polycarbonate hard case in various colors, and the Hard Case ($35), with a more-rigid polycarbonate structure with a couple soft-touch textures to choose from.
Incipio
This accessory maker favors Apple products but also accommodates BlackBerry, Zune, Kindle, and other smartphones. Its new iPhone 4 cases come in a variety of bold colors and are built from a range of materials. The Silicrylic ($30) is a two-piece case with a polycarbonate plastic interior shell wrapped in a shock-absorbing silicone outer layer. The Feather($25) is an ultra-slim, yet strong, polymer shell that is less than 1mm thick.
The NGP Matte ($25) is made from Incipio's "Next Generation Polymer," featuring an ultra-thin, soft-textured, and impact-resistant design. The dermaSHOT ($20) uses high-density, shock-absorbing silicone with an anti-static coating for optimal pocket-ability. The EDGE (pricing not available) uses "optical quality," 1mm-thick, hard-shell polymer, and features a sliding design for wrapping the iPhone 4. Finally, a hitherto unrevealed Destroyer case is designed for customers on the hunt for "extreme protection." It will have three protective layers and features "military grade glass reinforced resins," though we'll have to wait on a price and ship date.
iSkin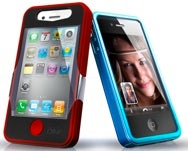 Purveyor of some of the most antimicrobial cases that you are likely to find this side of Cupertino's labs, iSkin has redesigned versions of all three of its headline cases on the way for iPhone 4. The iSkin Enigma ($100), Solo ($30-35), and Revo4 ($40) will all get iSkin's iPhone 4 treatment, and you can sign up at the company's site to be notified when they're ready.
USBfever
This jack-of-all-accessories has two cases and a screen protector available for iPhone 4. The Twine Leather Case ($20) is a polycarbonate case with synthetic-leather trim, while the Rebberized Silicon Prism Case (yes, rebberized, and $20) is, well, a silicon case with a "truly unique" prism pattern on the back. The simply named Screen Protector ($10) does exactly what the tin says.
Waterfield Designs
This popular maker of quality accessories has one case available already: the Suede Jacket. It's a $10 to $12 slip case with an optional $4 pocket and your choice of black, cheetah, or zebra prints. Waterfield has also pre-announced the iPhone Smart Case, a $40 slip-style case in your choice of six colors, sporting an optional belt clip and a pocket on the back for holding ear buds, a credit card, or an ID. It ships July 27.
Stay tuned for more iPhone-case roundups.
16GB iPhone 4 (GSM, AT&T)
Price When Reviewed:
$485
32GB iPhone 4 (GSM, AT&T)
Price When Reviewed:
$599