At a Glance
Expert's Rating
Our Verdict
Editor's note: The following review is part of Macworld's GemFest 2010 series. Every day from mid July through August, the Macworld staff will use the Mac Gems blog to briefly cover a favorite free or low-cost program. Visit the Mac Gems homepage for a list of past Mac Gems.
Miro is a free HD video and media player that helps you aggregate and download web-based content so that you can watch and listen to it on your Mac. Miro is capable of viewing everything from YouTube videos, video and audio podcasts, to legal bit torrents and TV shows on Hulu.
To help you get started Miro offers the Miro Guide, which is essentially TV Guide for your Mac. The Miro Guide is organized into six video and five audio headings: Genres, HD Shows, Most Popular, Top Rated, New Shows, and Video/Audio by Language. (Audio has no HD option) Using the guide, you can select video and audio podcasts to subscribe to, or use the the application's search bar to find the programs that you want to watch or listen to. Once you find what you want you can either watch it live or download it for later viewing.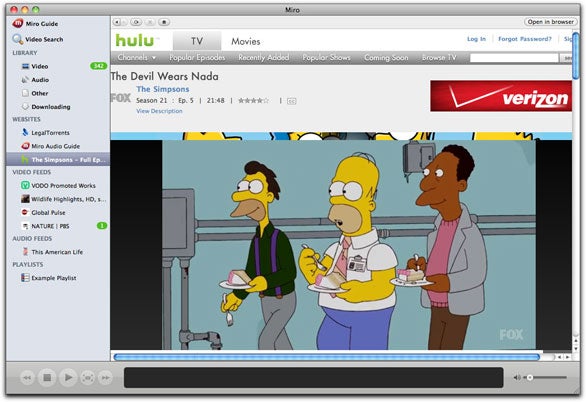 While Miro is impressive, it also would behave oddly. For example, if you find a TV episode that you want to watch that happens to be on Hulu, Miro displays it in its own browser, so many of Hulu's features, like the video pop out, don't work. And, it's not possible to download Hulu episodes for later viewing. You can bypass the Miro browser issues by opening the same video in Safari, but that seems to defeat the purpose of the program. Also the Miro video viewer often blocked the Miro interface offering no obvious way to hide or move it. This made it difficult to escape an episode I was viewing without quitting the program.
While it's not yet perfect, Miro offers a window into what may be down the road for video on your Mac. It's TV Guide-like offerings and ability to collect media from all over the web make it a compelling option for watching and listening to media at your desk or on the go.
Want to stay up-to-date with the latest Gems? Sign up for the Mac Gems newsletter for a weekly e-mail summary of Gems reviews sent directly to your inbox. You can also follow MacGems on Twitter.
Our 186-page Mac Gems Superguide is a veritable greatest hits of Mac Gems. It's available as a PDF download, PDF on CD-ROM, or as a printed book. Learn more about the Mac Gems Superguide.
[Jeffery Battersby is an IT Consultant, Apple Trainer, (very) smalltime actor, and regular contributor to Macworld. He writes about Macs and more at his blog.]