Photo-sharing site Flickr is great for uploading and exchanging photos, but with more than 4 billion photos uploaded to the site, it can be difficult to find what you're looking for. Last year, Connected Flow released Viewfinder for OS X, a program that aimed to make searching Flickr as friendly and easy as searching your own Mac. Now, the company has released Viewfinder for the iPad—a platform that couldn't be better suited for it.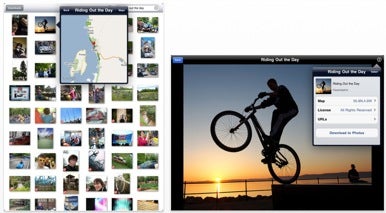 The $10 app lets you search through Flickr's vast photo library while giving you the ability to filter your searches to only show Creative Commons photos with specific licenses—which can help you avoid any potential legal issues from using other people's photos. If a photo has permission to be downloaded, Viewfinder will let you download it to the iPad's Photos app so you can use it as your iPad wallpaper or lock screen, or with Keynote, Pages, or any other app that can access your photos.
The app supports the usual swipe and pinch gestures for browsing and zooming, as well as the ability to browse photos in full-screen mode. If you tap and hold on a photo, the app will display additional information, including a map of where the photo was taken. There's also the ability to launch the iPad's Maps app with one touch in order to explore photo locations.
Viewfinder works on an iPad running iOS 3.2 or later.