If you take a lot of photos with your iPhone, you're probably aware of how hard it can be to search through your camera roll to find a certain picture. PhotoBag can help you sort and find iPhone photos you've taken more easily, though there's a big catch with this $1 app from Paper Bag.
When you take a photo with your iPhone's camera, the device captures EXIF data containing information such as the date the picture was taken and the location (if you're using a phone with GPS support). When you look at these images in a program like iPhoto, this information is available, allowing you to search by that criteria. Things are different on the iPhone—while EXIF data may be included, you can't view it natively when looking at images stored on the phone. That leaves you with an overstuffed camera roll; if you want to find that photo you took six months ago at a friend's birthday, you'll have to scroll and scroll until you find it.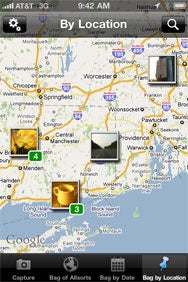 PhotoBag allows you to take photos within the app itself. More to the point, you can view all the EXIF data associated with each image and you can sort by date and location. Due to restrictions placed on third-party apps, PhotoBag can only read the photos taken from within the app, not ones taken directly from the iPhone's default Camera app. So if you want an accurate search of your photos, you'll need to take all of them from within PhotoBag. It's also worth noting that the recent iOS 4 update brings Places to the iPhone, which allows you to view images natively by location (though still not by date as PhotoBag allows).
All photos taken within PhotoBag are saved to your camera roll by default. The app also supports the iPhone 3GS's tap-to-focus ability. You can also e-mail or post photos to Facebook from within the app.
If you find yourself constantly needing a better way to search through photos stored on your phone, turning to PhotoBag as your go-to image-capture app will meet that need. Personally, I still need to be able to use the regular camera app most of the time, so until Apple changes the way developers can access data from the photos, I plan to keep searching for photos by location on my desktop while keeping my thumb limber for the long sessions of scrolling through the camera roll.
[Macworld Contributor Beau Colburn lives in Boston and posts iPhone photos on his site Snap different.]