Weather is one of the few things everybody cares about, which probably explains the scores of weather apps available for the iPhone, iPod touch, and iPad. It's such a crowded field that a new entry often needs to offer something very special to get noticed. An app could stand out by providing unique information (unlikely, but possible) or by presenting a distinctive and unusual user interface.
Seasonality Go, developed by Gaucho Software enters the fray using the latter tactic. The iPad-only app presents the user with a modular, customizable, graphics-heavy interface. It's tempting to say "graphics only," but of course there's changing text within the graphics, indicating the usual—time, temperature, humidity, wind speed and direction, and so on.
In terms of geographic coverage, Seasonality Go is superb—Gaucho, which also offers a Mac version of Seasonality, says its app offers data on "30,000 locations in over 200 countries," and there's no reason to doubt the claim.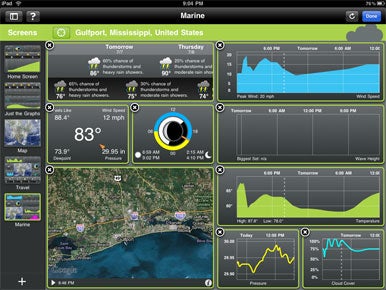 But the fact that Seasonality Go is limited to "the usual" weather data its biggest limitation. There's only so much to customize. The app enables you to create an endless collection of "screens" (each "screen" takes up the entire iPad screen), which you access via a thumbnail-view menu on the left-side of the iPad screen. (You can hide and display the thumbnails). In any unique "screen" you create, you can choose a location and put in (or leave out) separate modules for: current conditions, 7-day forecast, astronomical data, radar/satellite map, and graphs for temperature, wind, precipitation, pressure, cloud cover, humidity, snowfall, and wave height.
You can also resize each module, within a 4-by-4 grid. You can resize these to be as long or wide as you want within the confines of the screen, and within most of them (save for a few static ones such as "current conditions" and "astronomical data,") you can scroll to reveal more data.
The benefits of the modular approach are clear: you can emphasize those aspects of the weather that you care about the most. You can create different screens, featuring different information, for the same location. You can quickly and easily edit each screen, as well, to view more or less information in any module. The app spotlights the iPad's visual clarity and ample screen real estate when you choose to display only the satellite/radar map of a location.
But Seasonality Go has several technical issues. One is that the temperature indicated in the "current conditions" module frequently doesn't match up with the current temperature indicated in the forecast module—and sometimes the differences are several degrees. Why are they different, and which is more accurate? You'll have to go to Gaucho Software's help page for the answer.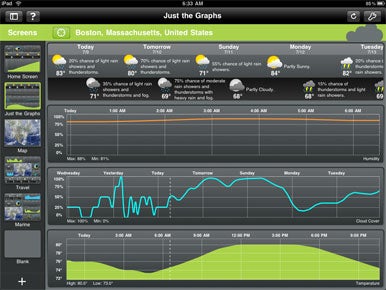 The second issue is that sometimes modules fail to fill with data—they remain blank. This doesn't seem to result from a bandwidth or general Internet slowdown, as most modules do populate quickly with data, and other apps that grab Web data performed well in the same time period.
Overall, while the app's modular, graphic approach has an initial appeal, in practice the interface can be confusing, and the graphic data overwhelming. In part this is because of poor labeling: many modules are line graphs, and therefore are difficult to distinguish from one another on first glance. Labels indicating the modules' content—"7-day forecast," "Precipitation," and so on—are buried at the bottom of the modules, in a font the same color and size as the data within the module. A large, bold font in the upper-left hand corner of each module could fix this issue easily.
It would also be useful for the sources of Seasonality Go's data to be made clear somewhere within the app, rather than on a Web page that's found via a link on the app's main page. This would eliminate some confusion, mentioned above, about the differences between similar data in different modules.
[Jeff Merron is a freelance writer and editor living in North Carolina.]