Sometimes, you just need a simple, silly app to kill a few minutes. Slingshot Safari, sequel to Digital Prunes' Slingshot Cowboy, is a great example of casual entertainment for the iPhone, iPod touch, or iPad.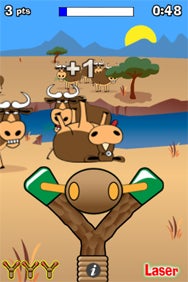 The game drops you into an animated savannah with a jungle-beat soundtrack, full of animals you're meant to slingshot to death. It's a little dastardly, but fun if you can appreciate the ridiculousness. Grumbling, groaning water buffalo, elephants, and other beasts mosey across the screen as you launch rocks at them.
Once you've mastered your slingshot skills, you're golden. Tilt the screen to adjust your aim, hold down the slingshot's pocket, drag it down a bit, then release to take out various types of African wildlife. A laser will give you sniper-like aim, but you can turn that off for more of a challenge.
In Safari mode you work your way through 10 unlockable game levels as an expert or beginner, trying to earn a certain number of points in an allotted time to move through the levels. Meanwhile, "free play" lets you pick from any of the 10 levels for a shorter practice session.
Different animals carry different point values, some will charge you (you only have three lives), and others are endangered and you will lose points if you kill them. Bonus animals like monkeys and crocodiles carry power-ups including extra lives and grenades.
If anything is unclear, the help section is surprisingly thorough. There are also leader boards from PLUS+ to track your progress and compare with other players. Though there aren't a lot of extras with Slingshot Safari, what it does, it does very well.
Slingshot Safari has all the trappings of a great casual game, but the $5 price tag is pretty off-putting. There is a lite version however, with only a slightly different format. You pick from three difficulty settings, then progress along the same 10-level scheme as in the paid version. It's still a lite version, though, so it's littered with ads and pop-ups asking you to upgrade.
Slingshot Safari has got to be one of the sillier games in the App Store, but it's nice to look at and good for a laugh. $5 may be a stretch for some, so the lite version is a good option if you don't mind a slight barrage of advertising.
[Meghann Myers is a contributor to Macworld.]