Kayak's iPad app already lets users price out flights to find the best fares to their desired destinations. But a recent update to the app now lets users see just how far their budget can take them.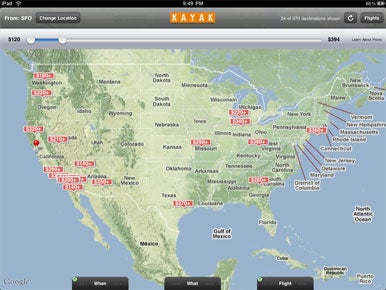 The 12.2.0 update to Kayak's iPad add, which arrived on the App Store Monday, introduces a new feature called Explore. It lets users see where they can travel based on how much money they want to spend, the kind of climate they're looking to visit, and what kind of activities they want to try once they arrive.
If there were any doubt about the importance Kayak.com has placed on the new Explore feature, it's necessitated a name change for the iPad app. Previously billed as Kayak Flights, the iPad offering now goes by the moniker of Kayak Explore + Flight Search.
Here's how Explore works: After you launch the app, you can set the departure point by tapping a button in the top right corner of the screen. Three slide-out panes on the bottom of the screen let you pick when you're looking to travel, what kind of activities (golf, gambling, skiing, or hanging out at a beach) and climate you're looking for, and whether you'd prefer a non-stop flight or not. As you set your criteria, orange dots appear on a map of the world; tapping a dot shows the destination and the price range for your getaway. You can use the pinch gestures to zoom in for a closer look at the map. (As you zoom in, the orange dots become red price tags.) And if you care to narrow down your options, a slider at the top lets you adjust the minimum and maximum you're looking to spend. As you make your adjustments, some of the orange dots will disappear from the map.
Maybe you prefer Kayak's old multi-pane look for searching for flights, hotels, and car rentals. Just tap the Flights button in the upper left corner to summon that view. You'll also notice that the 12.2.0 update has added the option to run multi-city searches in the iPad app.
Despite the name change, Kayak Explore + Flight Search remains a free download from the App Store. The new version runs on iOS 3.2 or later.