At a Glance
Expert's Rating
Pros
Easy, powerful annotation of photos.
Terrific Web viewer.
Cons
A few minor bugs.
Interface can be counterintuitive.
Our Verdict
Last month's vacation photos can too easily become this month's blur of forgotten details. MemoryMiner 2.1.1 turns photo albums into narratives, tagging people and locations to preserve the stories of your life. While its interface needs refinement, the program largely fulfills its big ambitions.
MemoryMiner lets you easily drag and drop photos into its main album window, either from the Finder, iPhoto, or its built-in Media pane. In my tests on a 2GHz aluminum MacBook with 2GB RAM, the program handled large libraries reasonably well. It took me about one second to navigate from one image to the next in a 500-picture library, and about two seconds in a 5,000-picture library.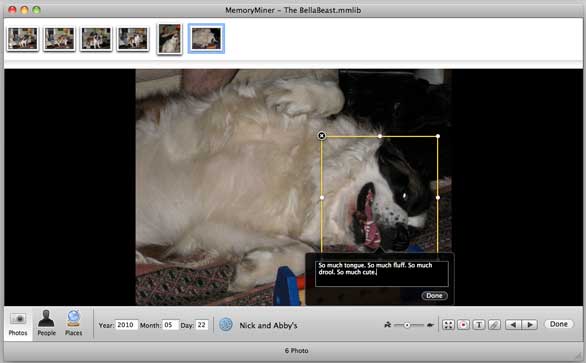 Once you've assembled your album, you can zoom in to individual photos and start drawing squares around the people or faces featured in the photo. Begin typing a name, and MemoryMiner will fill in any relevant data about that person from your Address Book or its People list. You can then add captions for individual people or entire photos to flesh out the events depicted. MemoryMiner can record a person's date of birth and relationship to you; the program will track individuals' ages based on photo dates, and even create thumbnails of people at the various stages of their lives captured in your photos.
If your photos include embedded GPS data, MemoryMiner will specify a place automatically. Otherwise, you can look up locations via Google Maps, and then apply those coordinates to one or more photos. MemoryMiner cross-checks people and places to create maps that trace each individual's travels in your photos. In my tests, the Places editor gave me the most grief, from minor graphical bugs to maps or place names that failed to update when I switched from one place or another. These errors were mildly annoying, but far from fatal. The vendor couldn't reproduce the errors I encountered, but pledged to investigate.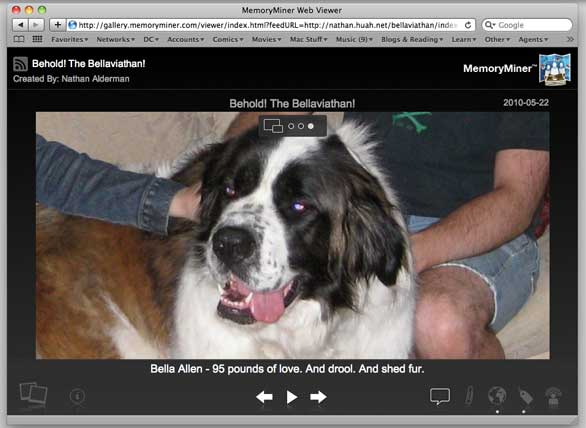 MemoryMiner's interface does a good job fitting a lot of information into a single window, but the program still sometimes feels like a work in progress. Finding new places isn't always intuitive; you can search by names like "Washington National Cathedral," but only via the Address field, not the Name field. The Media browser swiftly calls up photos on your computer, but also offers needless tabs for video and audio sources that the program can't use. You can record audio or iSight video clips to attach to individual photos, but only in .mov format; an audio recording displays as a black square of video. These and other rough edges could use smoothing out.
Such occasional stumbling blocks give MemoryMiner a somewhat steep initial learning curve. Reading the friendly Help files made the program much easier, although some information about newer features is only found in the release notes. Once I got past the occasional glitch, however, I started to enjoy the program's true power.
MemoryMiner uploaded all my annotations and GPS data to Flickr flawlessly, and used FTP to create an online gallery of my images with almost magical ease. The Web viewer uses HTML 5 to smoothly pan and zoom between annotations in each image (in Safari, Chrome, and Firefox) and display attached audio, video, and YouTube clips and Google maps. The Web viewer even lets you filter images by person or place, and employs RSS to update galleries as you add new photos.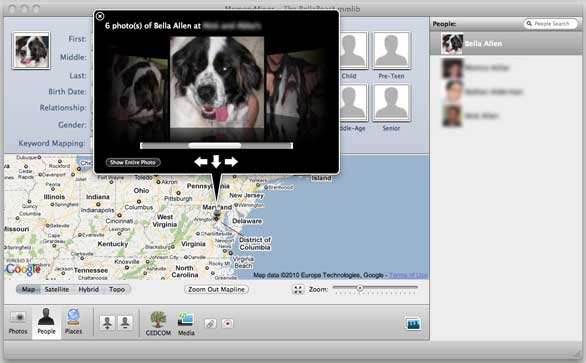 Macworld's buying advice
MemoryMiner 2.1.1's interface could stand a bit more polish. However, the program's most crucial features work magnificently. The ability to quickly and easily transform photos into a story definitely makes MemoryMiner worth its price tag.
[Nathan Alderman is a writer, editor, and occasional St. Bernard chew toy in Alexandria, Va.]