Devoted Safari fans, whether on the Mac or PC, never enjoy feeling jealous of their Chrome- and Firefox-using brethren. Thus, Safari aficionados everywhere are sure to be delighted by Google's announcement on Monday that Gmail now offers support for its fanciest HTML5 features in Apple's Web browser, too.
The features in question—some of which several Macworld staffers began spotting in Safari a few days prior to Google's official announcement—include the ability to drag attachments and images directly into mail messages you compose in Gmail.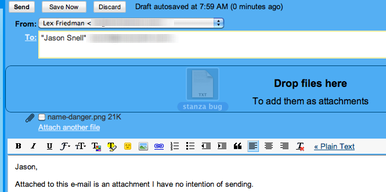 The other new Gmail feature that now works in Safari is a little harder to explain. Back in March, Google introduced faster-opening pop-out windows. At the time, the company noted a small but significant weakness of the feature, writing at the time that "the popped out window does not outlive the closing of the original Gmail window." In other words, if you popped out an individual message or a compose screen, and then closed the main Gmail window, those popped-out messages would no longer work. Back in June, Google announced that Chrome users would no longer face this limitation. Now, Safari users can share in the joy of Gmail's unrestricted pop-out windows.
Combined, these features add an impressive layer of feature parity between Gmail and desktop e-mail clients like Apple's Mail. Dragging attachments onto Gmail messages feels as intuitive and natural as doing so in any other app on your Mac. With these smartly-implemented features, folks like me who create pseudo-independent Web applications using Fluid will truly feel the line between Web and desktop apps blurring.
To avail yourself of all these fancy new Gmail features in Safari, you'll need to make sure you're running the latest and greatest version— Safari 5.