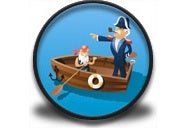 On Tuesday, SubRosaSoft updated its free DasBoot troubleshooting utility to version 2.0, adding support for the latest Intel Macs as well as bootable versions of Mac OS X 10.6 Snow Leopard.
DasBoot is a utility for creating your ultimate tech support Swiss Army knife on a USB or FireWire drive. But instead of dedicating a drive to a bootable copy of Mac OS X or troubleshooting utilities like DiskWarrior, DasBoot lets you install those utilities on one of your existing drives—or even an iPod or flash drive—while still using remainder of the drive's capacity for file storage. DasBoot also lets you add new tools to your troubleshooting drive and update existing utilities and your bootable copy of Mac OS X without having to completely wipe the drive.
DasBoot is a free utility, though you must obviously own licenses for any of the supported third-party utilities that you want to install on your drive. It supports Mac OS X 10.5 Leopard or later, USB and FireWire devices on Intel Macs, and just FireWire devices on PowerPC-based Macs.