With the arrival of iOS 4, the iPad, and iTunes 9.2, iTunes can now manage e-books for syncing to Apple's iBooks app. iTunes accepts two types of book files: those in ePub format, and PDF files. Organizing e-books in iTunes can be a bit baffling, however. Here's a look at how you can keep your e-book library spic and span.
First, you'll see in iTunes a Books library in the program's sidebar. (If you don't see it, choose iTunes -> Preferences, click the General icon, and check the box next to Books in the Show section.) This library, represented by a book icon, houses two types of files: audiobooks and e-books.
If you have both types of files, you'll see them in separate sections when you click on the Books library icon in the default Grid View: Books and Audiobooks. You can choose List View or Cover Flow if you want to display your books differently, however. (You can find out more about these different views in another article I wrote.)
Grid View is useful because you can choose to sort your books in three ways: Books, Authors, or Categories. The Books button sorts by title, with the two types of files separated. The Authors button sorts by author, but mixes e-books and audiobooks. Finally, the Categories button sorts by genre.
Sorting by Author does what one expects: in Grid View, icons display for each author, with a cover graphic displaying for one of the titles. (Note that some books in my library pictured above don't display covers; these are free public domain books downloaded from the iBookstore. You can add covers by selecting a book, pressing Command-I, then pasting a graphic—a real book cover, a photo, and so on—in the Artwork well.) Move your cursor over the graphic to see it change and show all the covers "hidden" behind the author icon (if you have more than one book by an author). However, you may find some books that show the author as Unknown Artist. To fix this, select a book, press Command-I, click the Info tab, then enter the author's name in the Artist field and click OK. (iTunes has no Author field.)
When viewing the Books listing in Grid View, you can also choose how they're sorted. Choose View -> Sort Books, and you tell iTunes to display books in order by author, title, or year, as well as pick ascending or descending order. (There are other options as well, but they're grayed out—perhaps they'll be available later?) Curiously, while iTunes sorts my e-books correctly by the authors' last names, it sorts audiobooks by their first names.
If you double-click one of the author icons, the display changes to a List View display, with book cover(s) showing in the left column. You can view all of the works you have by an author in this manner.
Sorting by Categories can be more confusing. Book genres—or categories, in Apple-speak—are relatively inconsistent in the iBookstore. In my library, for example, one of the categories is Audiobooks; while these are organized by author when you sort by Author, iTunes doesn't reflect categories (or genres) in this view. Second, three books display with the words Unknown Genre (why not Unknown Category?). As above, for Unknown Artist, you can change this by pressing Command-I and entering something in the Genre field for each of the books. You can choose any genre you want, either one that already exists, or you can make up your own.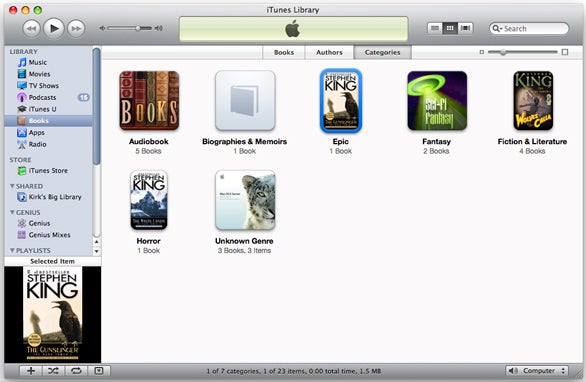 What's more disturbing is the inconsistency of genres (er, I mean categories) in the iBookstore. In my library, I have the seven volumes of Stephen King's Dark Tower series. One shows as Epic, two others as Fantasy, four as Fiction & Literature, and one as Horror. You can, of course, change these, but if you use this view, you need to ensure that you tag your books correctly so you can find them when you double-click a category.
All of the above applies to ePub books you purchase from the iBookstore, ePub books you purchase or obtain elsewhere and add to your iTunes library, and PDF files you add to your iTunes library. Note that when adding PDFs, they display by default in the Books library. If you want them to display elsewhere, choose a file, click Command-I, click on the Options tab, then choose one of the options from the Media Kind menu. In most cases, you'll want to choose Book. But if you have a file you'd rather store with an album in your Music library, choose Music, and make sure you tag the file with the artist and album name. The same is the case for Podcast and iTunes U; you can store PDF files in those libraries by choosing one of those Media Kind types, but you'll need to fill out other tags to sort them correctly.
You can choose which books to sync by connecting an iPad, or an iPhone or iPod touch running iOS 4, and clicking the Books tab after selecting the device in iTunes' sidebar. Choose to sync all books, or just selected books; in the latter case, check those books you want to copy to your device.
One final tip. You may have some iTunes Digital Booklets that you got when purchasing albums from the iTunes Store. These get stored with your music, and are tagged to stay with the albums they refer to. You can find all of these and put them in your Books library if you want. Create a smart playlist where Kind Contains PDF. Then select all the files, press Command-I, click the Options tab, then choose Book from the Media Kind menu. You can then sync and view them on your iPhone or iPad.
[Senior contributor Kirk McElhearn writes about more than just Macs on his blog Kirkville.]