Whether on the iPhone, iPod touch, or iPad, the Shazam app helps you identify and discover new music. An update to the iPad version of the app takes that a step further, letting you discover music that other Shazam users are listening to.
Shazam helps you figure out what song is playing on the radio, in a café, or wherever you happen to be by capturing a 15-second clip of the song. The app then sends that information to the Shazam database, and, in a matter of seconds, you can find out the song, artist, and album containing the mystery track.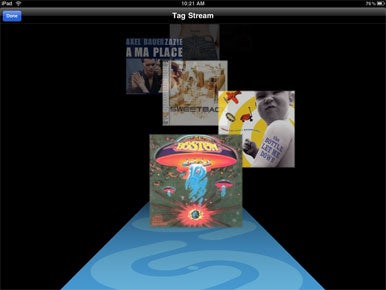 The 2.0.0 update to Shazam for iPad, released last week, adds a new Tag Stream feature. With Tag Stream, you can find out what songs other Shazam users have identified with the app.
You access Tag Stream by tapping an icon in the center of Shazam's menu bar. That takes you to a new horizontally-oriented screen where pixels drop from the sky and then assemble themselves into album covers that float away. See an album cover that catches your interest? Tap it, and it will float to the front of the screen, showing you the name of the song and the artist. You then have the option of adding that song to your own tag list, where you can listen to a clip of the song, look up similar tracks, discover other releases by the artist, or download the song from the iTunes Store.
Tag Stream is an exclusive feature to the iPad version of Shazam; you won't find it in either the free or paid iPhone offerings of the app.
Shazam for iPad remains a free download from the App Store that lets you tag an unlimited number of songs. For unlimited tagging on the iPhone, you need to pay $5 for Shazam Encore; the free iPhone version of Shazam limits new users to five tags a month.