If you're a music buff, you've probably heard of Sonos, maker of the Sonos Multi-Room Music System. The highly praised but costly system creates a mesh wireless network with access points—called ZonePlayers—in as many or as few rooms as you prefer. The resulting network lets you listen to whatever music you'd like in whatever room you'd like via your wireless network. Sonos has supported various music streaming services such as Rhapsody and Napster, and now it's added Wolfgang's Vault to its roster.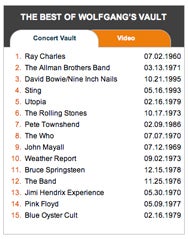 Wolfgang's Vault is a global music service that features more than 3500 live concerts—that's more than 40,000 songs. And we're not talking no-name bands here; Bob Dylan, Elton John, Pink Floyd, and Miles Davis are just a few of the big time acts that you can enjoy through this service. Wolfgang's Vault Concert Vault features master recordings from the archives of Bill Graham Presents from 1960 on, and includes recordings from legendary venues like New York's Fillmore East and San Francisco's Winterland.
Sonos customers can enjoy the Wolfgang's Vault streaming service free for 30 days; further use requires a premium membership of $48 annually. That membership also works with the company's iPhone app and on Boxee. Logitech's Squeezebox products, such as the Squeezebox Radio, don't support Wolfgang's Vault, but do provide access thousands of free concerts (new and old) from the Internet Archives's Live Music Archive.