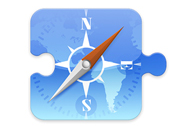 In an e-mail sent to its registered third-party developers, Apple continues to solicit submissions for the upcoming Safari Extension Gallery, a curated collection of extensions for the latest version of the company's desktop Web browser. Apple doesn't give an exact date for the gallery's unveiling, saying only that it will launch "soon."
There's no mention of the exact criteria that the company plans on applying when deciding whether a particular extension is worthy of inclusion in the gallery. Apple says only that the forthcoming Gallery will offer "selected extensions that offer an innovative user experience."
At the time of submission, developers are given the opportunity to categorize their extension into one or more different classifications, depending on the extension's intended use—e.g., blogging, development, e-mail, and so on—and on the kind of functionality that they provide (such as, for example, whether they add functionality to the browser's toolbar or run silently in the background).
It's interesting to note that Apple does not plan on distributing the extensions itself—developers are expected to host all the distribution files on their Websites, with Cupertino only providing links. Since all legitimate extensions are signed with a digital certificate, this makes sense, though it does potentially raise some questions as to how Apple is going to prevent ill-intentioned developers from silently switching distribution files without letting the company know.
Finally, there's the question of how exactly the Gallery will work. By default, support for extensions in Safari is turned off and must be explicitly enabled by the user. It's unclear if the Gallery will be part of Safari itself, à la Firefox, or whether it will just take the form of a Web page that Apple maintains, like its Mac OS X Downloads section. In the case of the former, Apple may push a Safari update that enables the system or perhaps just publish instructions for users to enable and install new extensions.