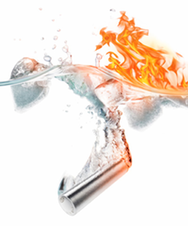 You want your data with you everywhere you go, but at the same time you don't want to risk damaging it—how do you handle the conundrum? Storage purveyor LaCie has one solution: its new rough-and-tumble XtremKey flash drive is designed to withstand even the harshest environments.
With a cylindrical casing made of zamac—an acronymic alloy of zinc, aluminum, magnesium, and copper—the XtremKey can supposedly be run over by a 10-ton truck without flinching. And pressure's not the only thing the XtremeKey can take, either; LaCie says the device's hardy exterior also handles 5-meter drops and extreme temperatures, from 200 degrees Celsius to 50 degrees below, with aplomb. Finally, thanks to the XtremKey's rubber O-ring and wear-resistant screw threads, you can drop it in a 100-meter deep pool—if you happen to have such a thing—and not worry about your precious bits and bytes.
The XtremKey isn't all hardened exterior, either; put the little fellow on a desk and it'll wobble playfully. For a look at the XtremeKey in action, check out the embedded video below.
Available in August, the XtremeKey will start at $50 and sport capacities from 8GB to 64GB. Its USB 2.0 interface supports read and write speeds of up to 40 Mbps and 30 Mbps respectively and it's compatible with both Mac and PC.
Read more…