At a Glance
Expert's Rating
Our Verdict
Editor's note: The following review is part of Macworld's GemFest 2010 series. Every day from mid July through August, the Macworld staff will use the Mac Gems blog to briefly cover a favorite free or low-cost program. Visit the Mac Gems homepage for a list of past Mac Gems.
ShootShifter is an unusual program that solves a very specific problem. Since the advent of digital cameras, there is an opportunity to create a glut of images, even from multiple cameras used at the same event. For example, on a vacation, the kids might use one camera and you might use another, but when you get back home you want one photo stream, especially if you plan to upload the images to Flickr.
The goal is usually to get one folder of images, using the same filename conventions. You might have one camera that used an erroneous timestamp if that photographer did not set the proper date. Or, you might have images that start with DSC and some that start with IMG. ShootShifter works well for this specific task of renaming images and adjusting incorrect dates.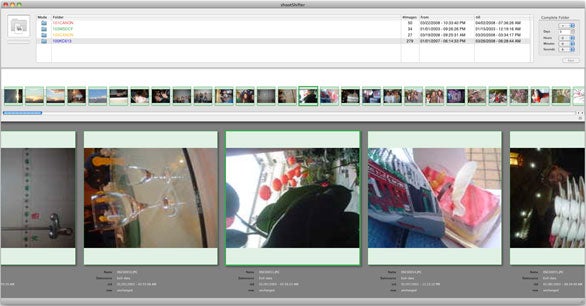 After you load multiple folders into the program, ShootSifter shows you a timeline for all images in one scrollable horizontal view. Each folder is automatically labeled with a color and shows on the timeline at a different vertical height, almost like a filmstrip. You can quickly adjust photos with the wrong timestamp by selecting them (using command-select or shift-select) and dragging the images into the correct sequence in the timeline. Or, you can adjust image dates manually by selecting each one. For example, let's say you have 100 images from a travel trip, plus another ten that use a false timestamp. You can drag these shots into the correct position on the timeline.
Once you have adjusted timelines, you can create a "complete folder" of all images, using the same naming scheme (such as "chinatripXX" where XX is the image name). The program works exceptionally fast, and despite a warning from the developer, I had no problems with corrupt files.
ShootShifter does not just make changes to the filenames; it actually corrects the EXIF metadata in the image file, which is handy for serious photographers who need to manage a boatload of images and maintain some sanity over the image data.
Want to stay up-to-date with the latest Gems? Sign up for the Mac Gems newsletter for a weekly e-mail summary of Gems reviews sent directly to your inbox. You can also follow MacGems on Twitter.
Our 186-page Mac Gems Superguide is a veritable greatest hits of Mac Gems. It's available as a PDF download, PDF on CD-ROM, or as a printed book. Learn more about the Mac Gems Superguide.
[John Brandon is a 20-year veteran Mac user who used to run an all-Mac graphics department.]