Multitasking Browser offers iPad users the ability to track a Twitter feed, update their Facebook status, or keep tabs on the weather all while browsing other Web sites on an iPad. The app from InnovPixels works reasonably well, although it has limitations, when compared to the mobile version of Safari that make it an unlikely choice as your everyday browser. What's more, Multitasking Browser lacks other seemingly obvious features that it needs to be a truly great app.
The way Multitasking Browser works is similar to the way that Cruz works on your Mac. The app provides you with two browser windows, one that's sized normally for your iPad and another smaller browser window that you use to view the mobile versions of Websites. In landscape mode these windows appear side-by-side, while in portrait mode, the mini-browser is accessible using a somewhat less useful, non-multitasking popover menu.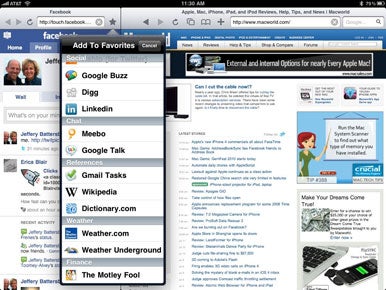 The app's main browser window offers many of the standard amenities you'd expect of a good Web browser, but it lacks features that you may already be using in Safari on your iPad. So you can easily add new bookmarks or open those you've saved, view all your active Web pages, and double-tap on any article you're viewing to zoom in for easier reading. But if you're used to using Mobile Safari's bookmark bar, you won't find this feature in Multitasking Browser. Sites such as RadioParadise.com, which can stream music in the background on your iPad, don't work—even to stream music in the foreground—using Multitasking Browser.
The mini-browser ships with 14 pre-defined bookmarks for popular mobile sites such as Facebook, Twitter, Meebo, Weather.com, and others. But what's bizarre is that the app offers no way for you to bookmark your own favorite mobile sites in the mini-browser. So, if you want to use ESPN.com's mobile site, you have to enter the address every time you use it. Furthermore, unlike the desktop-based Cruz, which lets you "trick" the sites you're visiting into thinking that the mini-browser is an actual mobile browser, Multitasking Browser doesn't change the mini-browser's user agent to make the site you're visiting think you're using a mobile version of Safari. The end result is that sites like Macworld's mobile site, which look at the browser you're using and load the appropriate page, load the non-mobile Website instead. Also, when using the browser in landscape mode, there's no way to hide the mini-browser.
If you're interested in keeping tabs on social networking or other mobile sites while browsing the Web, Multitasking Browser offers some convenience that otherwise outweighs the app's shortcomings. But in its present iteration, Multitasking Browser doesn't offer the kind of upside necessary to tempt you away from Safari. In short, it's a good idea that needs some more refinement to make it great.
[Jeffery Battersby is an IT Consultant, (very) smalltime actor, and regular contributor to Macworld. He writes about Macs and more at his blog.]