At a Glance
Expert's Rating
Our Verdict
Editor's note: The following review is part of Macworld's GemFest 2010 series. Every day from mid July through August, the Macworld staff will use the Mac Gems blog to briefly cover a favorite free or low-cost program. Visit the Mac Gems homepage for a list of past Mac Gems.
Any browser worth its weight in HTML these days will offers its own download manager. But these built-in file wranglers are pretty basic, and they only track their own downloads. If you often find yourself downloading even a handful of files each day, or you switch browsers like you switch apps, a real download manager like Many Tricks's Leech might be a better companion for your Internet travels.
Leech uses a plugin to hook into Safari, Camino, OmniWeb, and Firefox, then acts like The One Download Manager To Rule Them All (sans the flaming eyeball or icky world domination stuff). No matter which of these browsers you use, Leech will snag your download and give you better tools to manage all those files you collect.
Besides the basics like a single window for viewing progress and revealing finished downloads, Leech lets you drag in URLs from source other than your browser; control the number of concurrent downloads; create rules for placing certain files in specific folders (think: place all movies in ~/Movies, but all PDFs and DOCs in ~/Documents); pause and resume downloads individually or en masse; and more.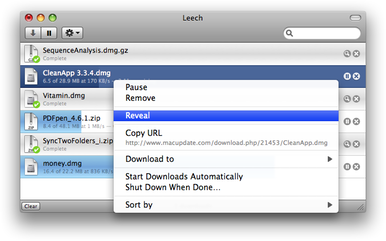 Leech even makes its Dock icon useful, filling up the arrow as downloads progress and displaying number badges for current and finished downloads. For bonus points, you can opt to keep a long history of all your downloads, copy a download's URL to the clipboard, and set Leech to shut down your Mac once all downloads are finished.
For all it does, Leech is pretty RAM-conscious. While downloading three large files at once, it's consuming less than 35MB on my MacBook Pro running Mac OS X 10.6.4. A few of Leech's features could use some tweaking, however. The rule function for filtering downloads by file type into certain folders is hidden under the File menu, and when all downloads are finished, your only option is to shut down your Mac—Sleep is strangely not on the menu.
Minor gripes aside, I've found Leech to be a very useful download companion. It fills out its space quite nicely between built-in download managers and everything-and-the-kitchen-sink apps, like Yazsoft's Speed Download, with a concise interface, a small footprint, and just the right features.
Want to stay up-to-date with the latest Gems? Sign up for the Mac Gems newsletter for a weekly e-mail summary of Gems reviews sent directly to your inbox. You can also follow MacGems on Twitter.
Our 186-page Mac Gems Superguide is a veritable greatest hits of Mac Gems. It's available as a PDF download, PDF on CD-ROM, or as a printed book. Learn more about the Mac Gems Superguide.