The iPhone 15 and iPhone 15 Pro weren't the only new products to dump Lightning for USB-C. Apple also unveiled an update to the AirPods Pro, which only just launched a year ago. Now when you buy a pair you'll get a case that charges with USB-C instead of Lightning.
According to Apple's tech specs, the new port doesn't change anything about the charging speeds for the case, but it does mean that you can now use your iPhone 15 to charge your AirPods case. Simply plug one end of the USB-C cable that comes with your iPhone 15 into your phone and the other the new AirPods Pro MagSafe Charging Case with USB‑C and you can use your iPhone's battery to charge your earbuds.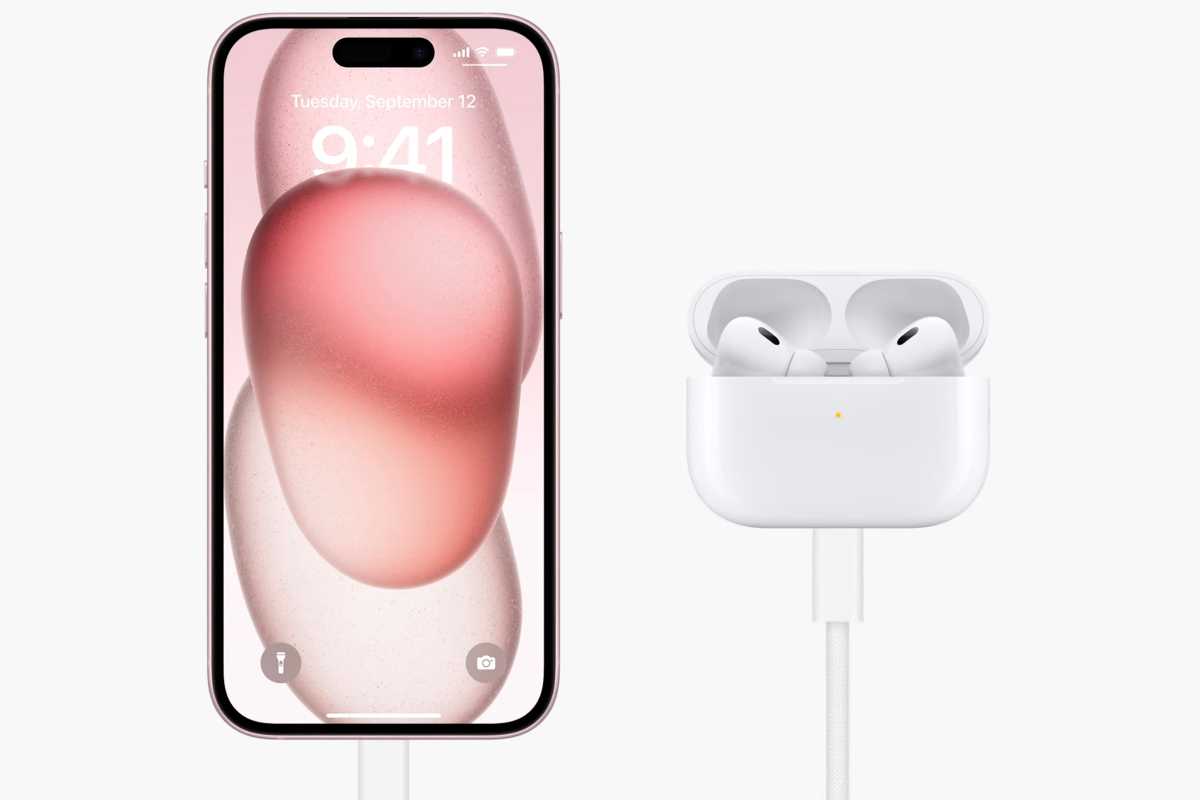 Apple
We've been hearing rumors for years about reverse wireless charging, but reverse wired charging is a surprising feature. It's a bit more convenient as well since you can use the iPhone 15 while charging your AirPods since it doesn't need to lay flat. Reverse wired charging brings yet another charging method to the AirPods Pro case, which can be charged with a wall plug, MagSafe, Apple Watch charger, and now an iPhone 15.
Apple also says you can charge an Apple Watch with the iPhone 15 but doesn't mention any other devices, such as an iPad or another iPhone. But maybe the next iPad mini or iPad Air will gain reverse wired charging support.
And that's not all that's new. Apple also announced that the newer AirPods will "enable Lossless Audio with ultra-low latency to deliver the perfect true wireless solution with Apple Vision Pro," and deliver IP54 water and dust resistance versus IPX4. That means the model with a USB-C case is now protected against dust-limited ingress.
The AirPods Pro with USB-C case cost the same $249 as before and can be preordered now for arrival on Friday, September 22 alongside the new iPhones. Note that third-party retailers such as Amazon still selling the Lightning-equipped AirPods Pro, and it is not known when these retailers will begin shipping the USB-C case, so make sure you know which model you're buying. And of you bought one a pair within the last few weeks, you should probably return them right away.
New features for AirPods Pro with USB-C
So in summary, here are the new features in the 2023 AirPods Pro
A case that charges with USB-C instead of Lightning
Use your iPhone 15 to charge your AirPods case
Lossless Audio with ultra-low latency for Apple Vision Pro
Protected against dust-limited ingress
For more about Apple's new products, check out everything announced during the Wonderlust event.
Apple AirPods Pro (2nd-gen, 2023, USB-C)
Price When Reviewed:
$249