Licensed games can be a bit of a crapshoot, but Chillingo Ltd .'s Predators— an action game modeled after Robert Rodriguez's latest movie — is just the right mix of authenticity, well-rounded gameplay, and over-the-top violence.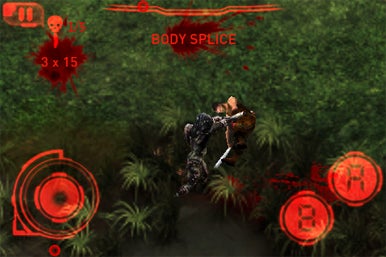 Somewhat bizarrely, the game asks you to sign up for the social network service Crystal first thing when you open the app. I skipped through everything to continue as a guest, but it doesn't take more than a few minutes to sign up.
Once you get the game going, a few illustrated slides provide some context and back story. Each stage drops you into a detailed environment, usually something jungle themed, with a few instructions about skills to use and how many people you have to kill to beat the level.
Yes, people. Somewhat unexpectedly, this Predator game casts you not as one of the human protagonists, but instead as of the alien predators working to exterminate the humans. To unlock each stage you must kill a certain number of humans, usually around to 10 or 15, then progress to more complicated achievements.
The controls are a surprisingly responsive joystick on the screen's left side, with an A and B button on the right. The joystick controls movements while combinations of A and B perform everything from blocks to gruesome decapitations (a.k.a. Trophy Kills). You can't move the control scheme around, but the options will let you turn off the music, sound effects, and even the bloody messes if you're a bit squeamish. Still, this is not a kids' game.
While the predators of the movies usually stalk their prey using stealth and patience, the pace of Predators for the iPhone is much more frenetic. The game relies less on sneaking up on your foes (the top-down view means you're likely to stumble upon your enemies rather than surprise them) and more on combos and brawling. The hunt gets particulary chaotic and bloody when when you get to stage six— there you must perform five decapitations to move on in addition to killing off anyone else who threatens your health meter.
At any point, you can pause the game and consult the combo list to remember all of your maneuvers. The farther you progress in the game, the more skills and weapons you unlock and then use to fulfill the ever-more-complicated missions. There are 24 in all, guaranteeing hours upon hours of carnage.
Visit the Trophy Room to check out your stats and achievements, or go to the Gear Room once you've accumulated some points to spend on new weapons and upgrades. The Extras section has a few perks as well, with a complete tutorial, character bios, and some links to download more of Chillingo's games.
Though Predators for the iPhone doesn't include any multiplayer options or mini-games, it's still an entertaining and challenging title—even for those with no interest in seeing the movie. Much more than a marketing gimmick, Predator is an action-packed title that is well-worth the $3.
[Meghann Myers is a frequent contributor to Macworld.]