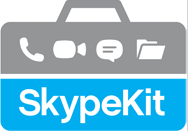 Could Skype users soon find themselves able to chat within other programs? SkypeKit, first released in June for Linux, has now added support for both Mac OS X and Windows.
This new SDK gives desktop developers the ability to embed Skype's video, voice, and text chat capabilities within their programs. Previously, developers only had access to a small set of public APIs, designed primarily for accessories, such as headsets and Webcams, that connected to Skype's official desktop client.
Skype describes the SDK tools, when integrated into a program, as "a headless version of Skype—that is, a Skype client with no user interface that runs invisibly, not only on PCs, but also TVs, notebooks, and other connected devices." Unfortunately, SkypeKit is currently only available for desktop software developers; Skype has no timeline for incorporating mobile and Web app development into the SDK.
SkypeKit is currently only available via invitation-only beta; interested developers can request a beta invite by going to Skype's Developer Website.