Market research firm ChangeWave Research has released the results of its latest smartphone survey and the numbers show big gains for the iPhone and Android.
ChangeWave conducts a survey on smartphones every quarter; this time the company polled 4,028 respondents between June 14 and 24, the day that the iPhone 4 was released. (As such, the survey doesn't take into account iPhone 4 owners.)
The June survey shows a huge jump in the smartphone market, with 16.4 percent of those polled saying they were planning on buying a smartphone in the next 90 days. ChangeWave says that's the biggest percentage it has ever recorded, the previous being a 14.4 percent bump when the iPhone 3GS was released in June 2009. But it's also important to note that the overall smartphone market has also increased significantly in that time, meaning those percentages represent a larger number of consumers.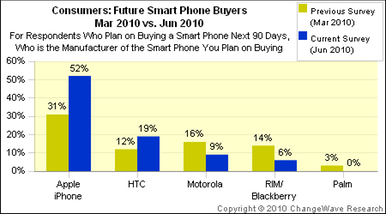 Those customers who were planning on buying a smartphone in the next 90 days overwhelmingly chose phones from Apple, who topped the list of manufacturers with 52 percent, up from 31 percent in the previous survey. HTC followed with 19 percent, a jump from 12 percent last quarter, while Motorola, Palm, and RIM all suffered significant drops. RIM, in particular, went from 14 percent of planned purchases to just 9 percent.
It's also little surprise that Apple continues to hold the highest satisfaction ratings of any smartphone manufacturer, with 73 percent of iPhone owners rating themselves as very satisfied. HTC followed with 39 percent, and Motorola and Palm were tied with 34 percent. RIM registered a record low of 30 percent, its seventh consecutive quarter of decline in satisfaction.
ChangeWave's vice president of research, Paul Carton, suggests that RIM's decline in satisfaction and the lower interest among potential customers may stem from the fact that many features which once distinguished the BlackBerry—powerful messaging capabilities, for example—are now taken as a given in the smartphone arena. While the iOS and Android have established a rapid pace for development, the BlackBerry OS has largely stagnated.
The Android market in particular appears to be extremely volatile, given the rapid-fire releases of popular new handsets powered by the Google operating system. Motorola, briefly buoyed by the success of the Droid, has given up its lead to HTC, which has recently rolled out the Droid Incredible and EVO. However, Motorola's next Android phone, the anticipated Droid X, will see release later this week, which may potentially shake up HTC in the next quarter.
It's worth repeating that this survey doesn't take into account iPhone 4 owners. ChangeWave's Carton says that the company will be performing a survey of iPhone 4, Droid Incredible, and EVO owners that will investigate topics such as the iPhone 4's antenna reception issue.