When you need remote access to one of your Macs, there are tools built into OS X, as well as dedicated software and services, that will help you do the job.
But sometimes you need quick and easy access to someone else's Mac—a friend, colleague, or family member, perhaps—or you need to share your screen with them. Two of the most widely available chat tools for the Mac—iChat and Skype—will let you do it. And if someone is at home when you need to access your Mac there, and that someone has the credentials to accept a chat-based screen-sharing session on your machine, you can use chat tools for that, too.
iChat
The advantage of iChat over other remote access options is that it could work between any two Macs, as long as both are running Mac OS X 10.5 or 10.6. That makes it particularly good for helping family members near and far with troubleshooting.
iChat relies on the same underlying screen-sharing technology as Back to My Mac. Unfortunately, iChat provides less control than BtMM. Also, it requires someone to be on the other end of the connection; BtMM doesn't. Among its other disadvantages: You can't share or view a screen in iChat if either party is using a version of OS X earlier than 10.5; it doesn't handle multiple monitors as well as some other solutions; you can't copy and paste between machines; and it may not work unless both ends of the connection have a publicly reachable IP address.
Set up All that said, if you are connecting with another Mac that meets the requirements, screen-sharing via iChat is simple: In Leopard or Snow Leopard, log into iChat. If you want to share your screen with someone else, confirm that the Video -> Screen Sharing Enabled option is checked; if you want only to view someone else's screen, make sure the other party has that option selected. (If you don't have an iSight camera attached or built into your Mac, that menu will be titled Audio.)
You can start a screen-sharing chat with a buddy in one of your account lists (Bonjour, AIM, Jabber) or with someone who isn't on any of them. There are three ways to connect to an existing buddy:
• Control-click that person's name and select Share My Screen with buddy name or Ask to Share buddy name's Screen;
• Select a name in the list, and click the Screen Sharing icon at the bottom of the iChat window, then choose the appropriate option; or
• Select a name in the list, and choose the screen sharing option from the Buddies menu.
To initiate a chat with someone who isn't on your buddy list, select File -> New Chat (or press Command-N), choose either Share My Screen or Share Buddy's Screen from the Type pop-up menu, then enter the other person's screen name. Mac OS X will warn the other person that someone who isn't on his or her list is trying to initiate a session.
Whoever you're trying to share screens with, that person will now be asked either to allow you to view his or her screen (or whether he or she would like to view yours).
When the session starts, the remote desktop will take over your screen; your own desktop will shrink into a small window. Click on that small window, and your desktop and the remote one will swap places. If you have more than one monitor, you can drag the minimized remote window to it; the remote viewing session will then display on that screen.
iChat's screen sharing starts an audio chat connection at the same time. Both parties can move the cursor or type. This can set up a bit of a fight if you're not careful.
In iChat, you can't stretch or otherwise control your view of the remote system. This is particularly troubling when that remote machine has two or more monitors. iChat's rendition of screen sharing shows all remote monitors on a single local display, scrunching them to a tiny size even if you have multiple displays yourself.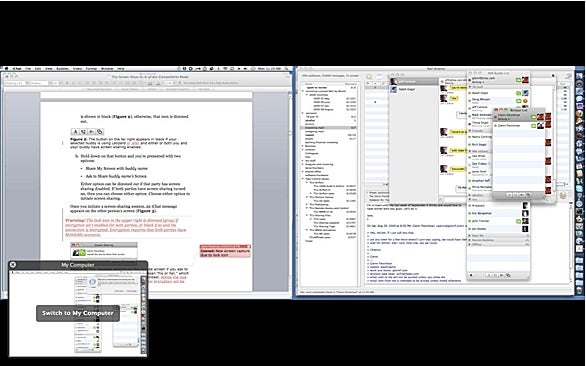 Additionally, all the Screen Sharing program commands you get when using Back to My Mac are disabled: no copy and paste, no adaptive/full quality switch, and no resizing.
Troubleshooting While iChat screen-sharing is relatively simple to set up on the Mac itself, it does require that certain ports be open on the sharing end of the connection. That means at least one of the parties needs to have an Apple router with NAT-PMP enabled or another company's router with UPnP turned on, as well as a publicly reachable IP address. (For more on how to obtain such an address, see Five ways to remotely access a Mac.)
Skype
Skype also offers a minimal, but useful screen-sharing option: You can share all or part of your screen with someone else; that other party can view but not control it. This can be useful for some troubleshooting and demonstrations.
The advantage is that you can reach any of the many Skype users out there; among other things, that means it can work between machines running Mac OS X and Windows. And Skype gives you the option of selecting which parts of the screen your sharers can see.
On the downside, Skype won't let you control a remote system, you can't share multiple monitors at the same time, and you can't share one screen with multiple parties.
Set up Before you start, you'll need a registered Skype account (it's free) and the Skype client (also free). You must have version 2.8 or later to share your screen; if the system on the other end has an older version, it can still observe yours.
After logging in, select a contact in your main Skype window. Then, either initiate a call or chat and select an option from the Share menu, or select Call -> Share Screen, and then the option you want.
You have the option of sharing your full screen, a selection from a screen, or one of your monitors (if you have more than one). Choosing to share just a selection of the screen reduces bandwidth and keeps parts of your screen that you don't want to share off-limits.