Adding to the growing number of list and finance management apps for the iPad, SplashData has released its list maker and organizer app, SplashShopper, and personal finance manager, SplashMoney, for Apple's tablet. Both apps can sync with their respective desktop counterparts and are optimized for the iPad's larger display.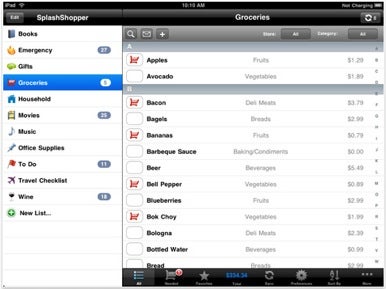 SplashShopper helps manage lists of groceries, gifts, to-dos, wines, music, movies, and any other type of item you might need to keep a list of when you shop. It also helps track prices and locations of your items, making it easier to comparison shop.
You can create an unlimited number of shopping lists, each with different categories, custom fields and icons, and a QuickLists feature lets you quickly enter items with the help of a fast-entry grocery database. You can assign items to multiple stores and track per-store prices, e-mail item lists to other SplashShopper users or as regular email, and sync with SplashShopper desktop over Wi-Fi. It also uses location-based mapping to help you find the nearest store for your items.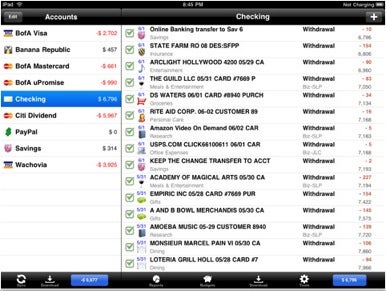 SplashMoney helps iPad users manage their money on-the-go by wirelessly syncing with their bank accounts and desktop computer, downloading transactions directly into the app. The app lets you create budgets, then track and analyze spending with customizable reports and charts.
Most account types are supported, including checking, savings, credit card, cash, asset, liability, money market, and line of credit. SplashMoney secures your account data with password protection using Blowfish encryption, and even supports multiple currencies with live currency updates.
SplashShopper and SplashMoney for iPad are $5 each and run on iOS 3.2 or later.