Editor's note: The following review is part of Macworld's GemFest 2010 series. Every day from mid July through August, the Macworld staff will use the Mac Gems blog to briefly cover a favorite free or low-cost program. Visit the Mac Gems homepage for a list of past Mac Gems.
Twitter clients are the new task manager—a virtual ton of them are available for the Mac, and most of them do their part to stick out with a unique feature or three. Few, however, dance so skillfully between simplicity and power as YourHead Software's Kiwi.
Kiwi starts with what I would consider the basic necessities of a decent desktop Twitter client, including multiple account; native retweets; search; and a respectable handful of customizable features. Despite this, its interface remains pleasantly simple—Kiwi doesn't mistake itself to be an e-mail client or balloon across your display with multiple columns.
Venture beyond those basics, and Kiwi gets interesting. First, you can customize the tweet interface via a growing number of downloadable Kiwi themes. Some make various Twitter features more accessible (such as adding Favorite and Reply buttons to each tweet), while others trim a little fat and tastefully fit as many tweets as possible in Kiwi's window.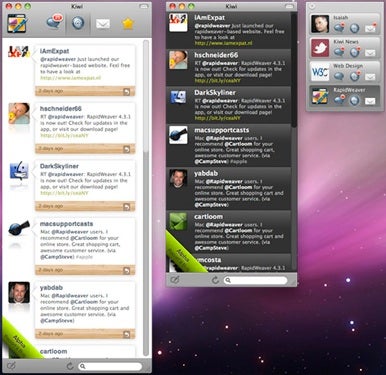 Easily, the most interesting of Kiwi's features is Rules, a simple way to affect what you see in your Twitter stream. Not much unlike the filters and rules in your e-mail client, Kiwi's rules can search for keywords or hash tags that you specify, then hide those tweets or even style them differently using CSS. If you're sick of hearing about an event that you cannot attend or your friends just won't shut up about Justin Bieber, Kiwi can make a serious dent in your Twitter stream's signal to noise ratio, and you won't have to hurt anyone's feelings by unfollowing them.
Kiwi is a great option for improving your Twitter experience, whether you run a dozen accounts between your personal, business, and celebrity spoofing, or you've just outgrowing the limitations of using a Web service in a Web browser.
Want to stay up-to-date with the latest Gems? Sign up for the Mac Gems newsletter for a weekly e-mail summary of Gems reviews sent directly to your inbox. You can also follow MacGems on Twitter.
Our 186-page Mac Gems Superguide is a veritable greatest hits of Mac Gems. It's available as a PDF download, PDF on CD-ROM, or as a printed book. Learn more about the Mac Gems Superguide.