HootSuite, an app aimed at Twitter and Facebook power users, now features Foursquare integration as well as support for iOS 4's app switching features, thanks to an update by Hootsuite Media that arrived on the App Store this week. Version 1.1.5 of the iPhone app also promises performance boosts, and customizable re-sizing of fonts.
HootSuite lets you manage unlimited Twitter accounts and send and schedule Twitter and Facebook updates. You can create custom stream views for keyword monitoring, add geo-location coordinates to messages, translate Twitter messages, and even examine click-through statistics.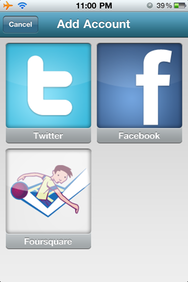 The latest version of HootSuite offers integration with Foursquare, an increasingly popular online social game that uses the iPhone's location-based services to help you keep tabs on your friends, explore your city, and earn points by doing so. HootSuite's new Foursquare functionality lets you check-in and shout out your current location to friends, follow your Foursquare friends' check-in streams, and view your own check-in history.
Sure to please iOS 4 users is HootSuite's new support for the operating system's fast app-switching feature. Now if you leave the app, you can return right where you left off without waiting for it to load.
Finally, HootSuite becomes more customizable. New options in the app's preference menu include setting your re-tweet style and changing font and avatar sizes. You can also now choose whether you'd like to view your contacts by user name or real name, display relative or absolute data on timestamps, and share your location automatically on every update.
HootSuite, which is compatible with iPhone, iPod touch, and iPad running iOS 3.1 or later, costs $3. A free ad-supported version is also available from the App Store.