Having staked out its claim as a go-to source for capturing and storing information, Evernote now wants to help its users do more with the data they're stashing via the information-capture service. On Wednesday, Evernote unveiled its Evernote Trunk, an in-application showcase of products, services, and content aimed at bringing added functionality to Evernote's 3.7 million users.
The new Trunk feature profiles offerings built by developers using Evernote's APIs to integrate their products with the company's memory-storing capabilities. Evernote claims some 2,000 API partners working to build functionality from the information storage service into their apps.
The Trunk made its debut Wednesday in Evernote's Mac and Windows desktop clients as well as on its Web-based service; users access the Trunk via a button in the application's menu. The company expects Trunk functionality to arrive in the iPad version of its hybrid mobile app next week—an update has been submitted to Apple for App Store approval. The iPhone will gain that functionality later, as will Evernote apps for other mobile platforms.
As of Wednesday's launch, Evernote says its Trunk will profile around 100 products and services from 67 companies. More than 30 of the offerings featured in the Trunk are new, according to Evernote CEO Phil Libin. Products featured include document scanners, voice transcription services, collaboration platforms and other offerings that integrate with Evernote. By promoting third-party offerings, Evernote can bring requested features to its service that it might otherwise not have the resources to implement itself.
"We want people to be able to leverage their memories," Libin told attendees at a press event to unveil Evernote's Trunk feature.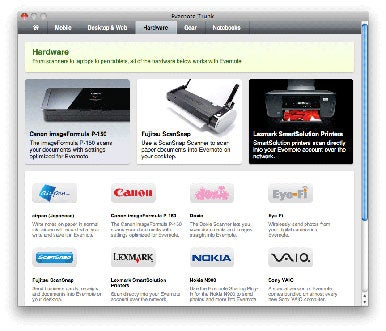 Evernote has organized its Trunk feature into several categories. Mobile showcases applications that "provide a great experience with Evernote" on mobile devices, Libin said. Desktop & Web profiles similar offerings aimed at computers. The Hardware category turns the spotlight on gadgets that work with Evernote—think electronic pens that allow you to take notes and then upload the content to Evernote's servers—while Gear is a catchall category for books, t-shirts, and other Evernote-related paraphernalia.
On Wednesday, Evernote also talked up another type of third-party offering—branded notebooks. This content from special interest publishers can be downloaded to an Evernote user's account without affecting monthly upload allowances; the user is then able to annotate, augment, and personalize that content. Libin touted the Notebooks feature—which currently includes content from Make Magazine, California Home and Design, and BlackBook—as potentially a new model for publishers.
A number of developers were on hand at Evernote's press event to showcase how their offerings integrated with Evernote. Seesmic showed off how its iPhone app now lets users store status updates to Twitter, Facebook, and other social networking services. SmileOnMyMac demonstrated the recently-added Save to Evernote feature in its PDFpen PDF editing software.
Evernote plans to eventually add in-app purchasing to its Trunk feature, as well as look at other revenue opportunities for products. In-app purchases will be added in the winter, though Libin said "the focus isn't to make an app store… We're a showcase."
Beyond that, Evernote hopes to add more functionality in the future. "We're currently working with many developers and recruiting many more to do things with the Trunk," Libin said.