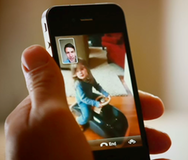 On Wednesday afternoon Apple invited several journalists, including one from Macworld, to its Cupertino campus on Friday for a "press conference about iPhone 4." Presumably the company will use the event to publicly address all the controversy swirling around this product, most notably reports of antenna interference issues.
Discussion of iPhone 4 reception issues kicked into a higher gear this week with Consumer Reports withdrawing its endorsement of the product, despite otherwise higher ratings. On July 2, Apple released a statement on its web site blaming a faulty algorithm for misleading users about signal strength and promising a software fix. However, that statement didn't directly address issues of serious signal loss occurring when some users held the phone along its lower left corner, an effect we noted in our review of the iPhone 4. Our colleagues at PCWorld saw similar results, while also noting the iPhone 4's improved upload and download speeds. And some experts have characterized the issue as more of a molehill than a mountain.
The antenna issue aside, other users have complained about a malfunctioning proximity sensor that terminates calls when a cheek makes contact with the End Call button as they hold the phone to their face.
We'll be there to cover the event at 10 a.m. Pacific time on Friday, July 16.
16GB iPhone 4 (GSM, AT&T)
Price When Reviewed:
$485
32GB iPhone 4 (GSM, AT&T)
Price When Reviewed:
$599