You know a battle is truly epic when it gets refought time after time—take the Allies storming the beach at Normandy, for example. Or, to go for a slightly more famous example, the rebels fighting off the encroaching Imperial forces on Hoth. If you've long wondered whether you could have done better than Rebel Alliance commander General Rieekan, now's your chance with THQ Wireless's newly released Star Wars: Battle for Hoth .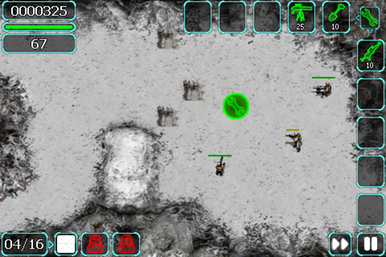 Battle for Hoth puts you in the unenviable position of having to defend the rebels' Echo Base from an onslaught of probe droids, Imperial snowtroopers, fearsome AT-AT walkers, and more. You deploy soldiers, gun emplacements, snowspeeders, and more as you strive to prevent the Empire from snuffing out the light of freedom in the galaxy. From your top down view of the battlefield, you can arrange your units as you wish in order to best defend your objective.
Unfortunately, my first attempt ended in a rout as the Imperials stormed the base and mercilessly destroyed it. But at least I was rewarded with a video showing the rebels fleeing like ants from AT-ATs. So I guess that's something. As it turns out, I'm not as good at strategic battles as I am at maneuvering an X-Wing straight down a trench. I did, however, manage to best the first level on a subsequent try, which just goes to show that you can teach an old tauntaun new tricks.
The game features 15 different levels and two different gameplay modes (Classic and Fortress), as well as authentic Star Wars sound effects and music. There's also support for the OpenFeint network, allowing you to compare your scores with friends and strangers alike. Battle for Hoth requires an iPhone or iPod touch running iOS 3.1.3 or later and costs $3.