Google Latitude, a service launched in early 2009 that lets users track the location of their friends by using their mobile device's location services, has had its share of roadblocks on its path to the iPhone, but it seems to have finally made its way into the App Store—as part of another app.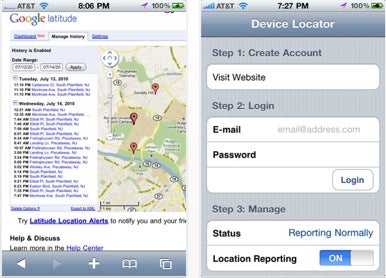 Developer Ravneet Singh's Device Locator for the iPhone reports your iPhone's location to a central server every time your iPhone connects to a new cell tower. You can log into this server from your browser to track your iPhone's location, making this app a sort of substitute for MobileMe's Find My iPhone feature.
The app takes advantage of iOS 4's multitasking support, running in the background at all times (even, the app's description claims, after it's been closed and removed from the multitasking bar). Despite using background location services, Singh claims that running the app will not not decrease your iPhone's battery life or performance.
If you enable the app's Google Latitude integration, you can opt to have Device Locator also push updates to your Latitude account, allowing your friends to see your location.
Device Locator also includes an emergency mode that, when enabled, will report your iPhone's location every minute using the device's GPS. The emergency mode, Singh notes, will decrease your battery life.
The Google Latitude App was rejected by the App Store last year, forcing Google to release it as a Web app for iPhone users. With the service now apparently green-lit by the App Store, we may see a number of new location-tracking apps that integrate with the service, while an App Store-approved Latitude app could potentially give similar apps like Foursquare a run for their money.
The $3 Device Locator runs on any iPhone 3G, iPhone 3GS, or iPhone 4 running iOS 4 (background location features naturally require a device that supports multitasking).