On Thursday Elgato, maker of TV-tuner and video-capture and -conversion products, released Turbo.264 HD Software Edition. Previously the software only worked and came with with Elgato's $100 Turbo.264 HD USB hardware encoding accelerator, but the $50 software-only product is now available as a stand-alone weapon for your video-conversion arsenal.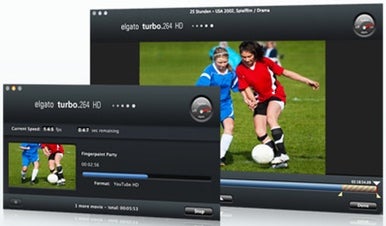 Turbo.264 HD Software Edition is a comprehensive tool for converting video files, camcorder footage (via direct import), and unencrypted DVDs into H.264 videos, perfect for enjoying in iTunes; on the iPhone, iPod touch, iPad, and Apple TV; and even the Sony PSP. It can digest just about any type of video, including AVI, WMV, XVID, MKV, and a slew of other popular and not-so-popular formats.
You can perform simple edits to your videos, like trim, crop, and scale, or combine multiple videos into one. When you're done crafting your masterpieces, you can queue up multiple videos, pick your output preset, and let Turbo.264 HD Software Edition work its conversion magic on the entire batch.
Turbo.264 HD Software Edition requires an Intel Mac with 512MB RAM, Mac OS X 10.5.8 or later, and QuickTime 7.6 or later. You can download a free demo version, but it limits video encoding to three minutes in length and places a watermark on your videos.