In the future, elegant touchscreen displays will be integrated into the walls of our homes and offices, ready to be used for presentations, convenient Web browsing, or interactive photo slideshows. If you don't want to wait for these days of touchscreen-on-wall glory, you can take matters into your own hands and mount an iPad on your wall now, thanks to TabletWallPort's Wallport.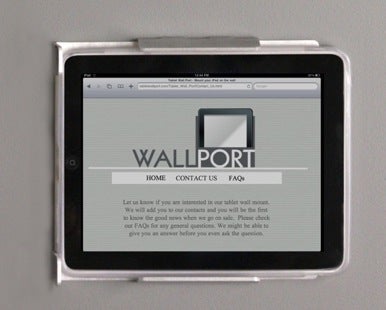 The Wallport is a sleek aluminum wall mount for your iPad that can be mounted flat on any wall, or to a 100mm VESA mount. The Wallport cradles your iPad without the use of clips or straps—simply slide your iPad in the mount and you're good to go. It can mount to walls in either portrait or landscape orientation and has the option to be customized with a rotating mount.
The Wallport is available in five colors and two fitting options: "Case Fit," which accommodates common silicone or acrylic protective cases that add between 3mm and 5mm of thickness to your iPad, and "Naked Fit," for iPads without cases or with cases that add less than 3mm of total thickness. The Wallport comes with a set of hardware to mount directly on a wall, as well as hardware needed to install it on a 100mm VESA mount.
The Wallport, which sells for $50, is available for pre-order and is expected to ship by August 12.