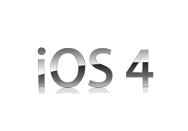 On the eve of Apple's surprise iPhone 4 press conference on Friday, that it announced less than 24 hours ago, the company has released iOS 4.0.1. The update brings one single change to the iPhone 4, 3GS, and 3G.
iOS 4.0.1 "improves the formula to determine how many bars of signal strength to display." According to a letter Apple published earlier this month, the company has been using a "totally wrong" formula for calculating signal strength. "For example," Apple wrote in its letter, "we sometimes display 4 bars when we should be displaying as few as 2 bars." This update also brings some minor changes to the signal bars themselves, making a few of the lower bars slightly taller in an effort to provide a more accurate representation of the iPhone's signal strength at lower levels.
Whether the formula alteration in iOS 4.0.1, as well as any other changes in the iOS 4.1 beta SDK just released to developers, will have any effect on the iPhone 4's much-publicized signal attenuation issue, however, remains to be seen.
Apple blamed part of the signal attenuation problem on inaccurate signal representation—in some cases, the company claimed, users see a dramatic drop in the iPhone 4's signal strength when bridging the antenna gap on the lower left side because there was never a decent signal to begin with.
Like most iOS software updates, version 4.0.1 includes a full copy of the entire OS (Apple likes to make sure you get a clean system software slate with each update, no matter how minor). For the iPhone 4, for example, it is a whopping 579MB download.
It is a safe bet that Apple will include this update in its iPhone 4 press conference on Friday, which Macworld will report from. iOS 4.0.1 is available now in iTunes. To download and update to it, connect your iPhone to your Mac or PC, and click "Check for Updates" in the device summary screen in iTunes.
Updated at 11:57am PT to mention the visual signal bar change and how to get the update from iTunes.