If you're a fan of audiobooks, you're probably familiar with Audible, a major online provider of audiobook download that was picked up by Amazon in 2008. Although you've been able to play Audible content on iPods and iPhones for some time, the company is making its first foray into the App Store with a free app for the iPhone and iPod touch (and iPad, although it's not a universal app) that features Wi-Fi delivery of your Audible library, iOS 4 multitasking support, detailed listening stats, and more.
Audible includes the basic features one would expect out of an audiobook app, like chapter navigation, bookmarking, and listening and viewing controls, as well as some high end features that should please audiobook enthusiasts—including the ability to transfer books from your Audible library to your iPhone or iPad over Wi-Fi, and a button-free mode that lets you control audio playback using gestures.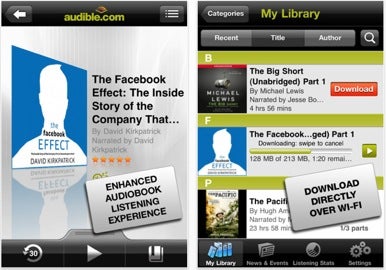 The app also includes a sleep timer, and takes advantage of iOS 4's multitasking support with background audio playback and downloading. It rounds out these core features with some fun extras, like the ability to track your personal listening habits, earn badges for performing certain actions, and get insider information about author events and such with the Audible Newsfeed. You can also connect to Facebook and Twitter to let your friends know what books you're rocking out to.
For those who aren't Audible members, the app includes seven audiobook excerpts to help get you interested, and as a bonus, if you create a new, free Audible account in the app, you'll get a free excerpt of David Kirkpatrick's The Facebook Effect: The Inside Story of the Company That Is Connecting the World.