I recently had the chance to visit three cities in Europe. And I was even more fortunate to have a trio of apps from Lonely Planet Publications—Lonely Planet London City Guide, Lonely Planet Paris City Guide, and Lonely Planet Amsterdam City Guide—along for the journey. With these apps installed on my iPhone, I had a travel guide for each city I visited without having to lug around any guidebooks with me.
I didn't use Lonely Planet's apps to plan my recent European travel, as I've been to these cities before. Plus, my husband is the vacation planner in my household. But I did use the fully re-engineered pocket guide companions—all three of which were easy to read and navigate through—while in each city.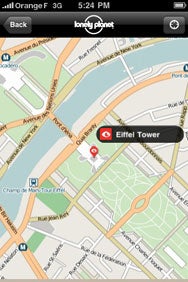 When you first launch any of the city guide apps, they open up to a table of contents. When reading the book, you have the option to make the text larger. Certain items in the book feature hyperlinks that take you to a Website. The back-and-forth button allows you to flip through the guide.
Lonely Planet's guides feature a Nearby button, which is a cool feature. Tap it, and the app shows you places to eat, sights, entertainment, shopping, and places to stay right near your current location. You can also filter these options to reduce or limit findings. Searches within any of the apps will comb through the table of contents, the book itself, and the Nearby feature.
For places to eat, places to stay, shopping, sights, and entertainment, you get a brief description along with an address, phone number, what metro or bus to take, and, in some cases, the cost. You are also given the distance in kilometers, which, of course, doesn't help a typical American like me. Sometimes Lonely Planet's apps will include links to the iPhone's e-mail, telephone, or Web browser functions.
You can use the Lonely Planet apps to map out any hotel, restaurant, point-of-interest, or entertainment entry or to view your current location. But the apps won't figure out directions for you.
I was quite impressed with the vast information the Lonely Planet Paris app had about Versailles. I was pleased with its content and the amount of information provided. The guide answered many questions that popped up as I walked around Versailles.
While in Amsterdam, one of the first things I did on the Lonely Planet Amsterdam app was to map my current location. Later, when I tried to find my current location, the app had me a street over and it never got it right after that. (To be fair, the Maps application on my iPhone had the same problems pinpointing my location, so this may not be an issue with Lonely Planet's app.)
Amsterdam is loaded with… well, let's say adult entertainment. Now I like the city, but I also appreciate that the entertainment section of the Amsterdam City Guide was quite descriptive so that I wouldn't accidentally visit a place I would rather not.
Lonely Planet's City Guide apps are loaded with information on history, art, literature, government and politics, fashion, neighborhoods, festivals, and events; they can also tell you what number to call in an emergency. The guides also provide walking tours. You can follow the guided tour as it tells you where to go and gives you basic information about each stop.
One word of caution: You may want to get an international plan should you travel abroad with the Lonely Planet City Guides. Some of the features need a network connection to work, though basic information won't require data roaming. More important, the app gives you plenty of warning before connecting to the Internet.
[Ann Chihak Poff writes a health and fitness blog, Go Fit Girl.]