I bought my iPhone 3G about 16 months ago, which means, in the fast-paced world of smartphone innovations, I am carrying around an antique. Some of the features in the recent iOS 4 update won't even run on my phone and the ones that do can sometimes feel a little sluggish. More to the point, while fancy-pants iPhone 3GS and iPhone 4 owners have souped-up built-in cameras capable of capturing video, I still have to make do with the phone's original 2.0-megapixel camera that takes pictures and nothing else. I might as be using a rotary phone.
I can't do much about the iOS disparity and my iPhone 3G's camera is what it is. But a number of software makers have come out with apps that add video-capture features to older iPhones. Camera Plus Pro, for example, includes video capture among its laundry list of features, and Camera Genius added video capture to its feature set after our November 2009 review of the all-in-one camera app.
CodeGoo, which makes Camera Genius, also offers video-capture in a standalone free app called Video Genius. The app allows iPhone and iPhone 3G owners to record video from their older models, though the results are unlikely to fill your iPhone 3GS- and iPhone 4-toting friends with any buyer's remorse over their upgrade.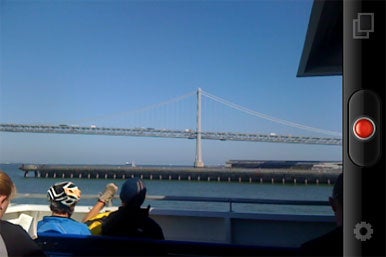 Launching Video Genius brings up an interface not unlike what you get from the iPhone's built-in Camera app—the entire screen becomes your viewfinder. Tap the green button on the bottom of the screen to start recording; it will turn red and flash when you're capturing video. You can film in either portrait or landscape orientation (though if you hold the phone horizontally, the controls don't realign themselves—they remain on the one end of the screen).
Video Genius promises you 40 to 60 seconds of shooting. In my tests, I was usually able to capture about 45 seconds of video before the app stopped the recording and saved my file to the iPhone's camera roll. On a few occasions, though, the app stopped recording at around the 25-second mark, even though my phone had just as much capacity as when I shot 40 seconds or more worth of video. The performance struck me as inconsistent.
If you'd like to shoot longer videos, Video Genius lets you turn on a long-video recording mode via its settings screen. Shooting in that mode, I created a magnum opus video of me walking around the Macworld offices for more than two minutes of continuous shooting before I stopped the recording. As a trade-off, videos shot in the longer shooting mode record at a slower frame rate—8 frames per second, according to CodeGoo, as opposed to a high rate of 12 frames per second for normal videos. (And the key phrase there is "high rate." A video I shot for test purposes in normal mode tallied 11.2 frames per second, while the long-video recording of my hero's journey could only manage around 5.5 frames per second.) Since 30 frames per second is more or less the standard for video, you should not expect pristine video quality from this app.
Video Genius recorded at a 210×160 resolution in my tests—a far cry from the 640×480 size that the iPhone 3GS records and not the least bit comparable to the 1280×720 resolution that the iPhone 4's rear-facing camera offers. Still, I found recordings shot in normal mode to be perfectly acceptable. (Long-video recordings, on the other hand, were jumpy and jerky—almost like watching a flipbook animation.) To my way of thinking, I'm primarily going to use a phone's video-capture capabilities to record those spontaneous moments when a phone is the only recording device handy—a child's first steps, a celebrity's TMZ-friendly faux pas, my friend getting hit in the groin with a football. For situations like these, Video Genius's serviceable-though-limited video quality does the trick. If, on the other hand, you demand higher-resolution videos from your phone, you'll want to consider a different option—like upgrading to an iPhone 3GS or iPhone 4.
Here's a sample video I shot with Video Genius, so that you can make your own judgment about the quality of the video. Note that most of the shakiness can be blamed upon my unsteady hand holding the iPhone.
I'm less satisfied with some of Video Genius's wobbly features. An icon in the app's lower right corner seemingly provides a link to your camera roll so that you can view your handiwork. When I tap that icon, though, nothing happens. The only way I've been able to view videos shot by Video Genius is to quit the app, and launch my iPhone's built-in Photos app—very inconvenient. Video Genius also lacks a way to share videos, either by e-mailing them or uploading them to the Web. You need to download the video off your phone onto iPhoto to do any of that—again, not a deal-killer, but hardly ideal.
If you've got an older iPhone and would like to add some video-capture capability, Video Genius gives you a serviceable option at no cost. (In contrast, an app like iVideoCamera will cost you $1, though you'll get better resolution from that offering.) Just be aware that if you opt for Video Genius, you'll have to learn to live with some quirks and limitations. For users who just want a simple video-capture capability, that's an acceptable for trade-off; for others, the app's shortcomings will be too glaring to overlook.
[Macworld.com executive editor Philip Michaels is ready for his close-up.]