At a Glance
Expert's Rating
Our Verdict
Editor's note: The following review is part of Macworld's GemFest 2010 series. Every day from mid July through August, the Macworld staff will use the Mac Gems blog to briefly cover a favorite free or low-cost program. Visit the Mac Gems homepage for a list of past Mac Gems.
CloudApp is both a Web service and a small application with a single minded goal: share your files with others with shortened URLs (in the form of http://cl.ly/xxxxxx). Any types of file can be uploaded, up to 50MB (making this service restrictive in regards to sharing video and podcasts).
The software itself is a simple application that resides in your menubar doing almost nothing until you invoke it to upload something. This is accomplished three ways: automatically, by dragging and dropping onto the menu bar icon, or through a hotkey. "Automatically" is only accomplished when the screenshot auto-upload is enabled. Once turned on, all your screenshots are uploaded as taken.
The hotkey does different things based upon the application you're in and the "Raindrops" installed. Raindrops are plugins that tell Cloud.app what to do in a particular application. For example, in Safari, the URL is captured and turned into a CloudApp style URL. It's context sensitive uploading that can be extended by anyone that writes a Raindrop.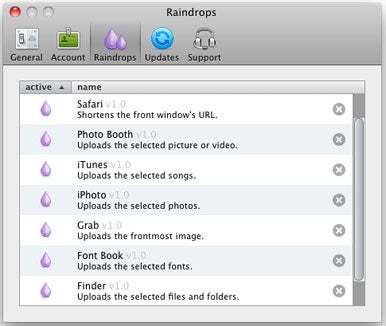 CloudApp also has a notion of "public" and "private" URLs. Please note that the only difference between the two are string length. Public URLs have as few as four characters. Private URLs have at least 20. Be advised that "private" isn't really private; nothing prevents a brute force attack from collecting that data. One should have no expectation of privacy when using this service.
While the software is normally well behaved, I encountered a stall when clicking the menu icon. The OS was unresponsive for a few seconds, but came back normal.
If you're willing to overlook privacy issues when using the service, the 50 MB file size limit, and an occasional stall, CloudApp is a free and exceedingly easy way to share files.
Want to stay up-to-date with the latest Gems? Sign up for the Mac Gems newsletter for a weekly e-mail summary of Gems reviews sent directly to your inbox. You can also follow MacGems on Twitter.
Our 186-page Mac Gems Superguide is a veritable greatest hits of Mac Gems. It's available as a PDF download, PDF on CD-ROM, or as a printed book. Learn more about the Mac Gems Superguide.