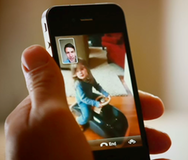 It's been a whirlwind week for news about the iPhone 4's antenna woes. Major media and companies—from Consumer Reports to David Letterman and Microsoft—have dinged Apple's newest smartphone over the antenna problem. On Thursday, Apple released a promised iOS 4.0.1 update to address at least part of the problem right before Friday's iPhone 4 press conference. But until Macworld can report from Apple's invite-only press event, staff members did some unofficial testing, and AnandTech has an in-depth explanation of the changes Apple made.
iOS 4.0.1 does seem to report its signal strength more accurately, which is precisely what Apple promised in its letter. It does not, however, solve the signal attenuation problem for some users who hold an iPhone 4 by its lower left corner in an area with poor coverage. In fact, some users should expect to see slightly worse signal strength in some areas—but in a way, that's a good thing.
Reporting cell phone signal strength is a surprisingly convoluted and difficult venture, which Ars Technica explained in an overview of the practice. Before this update, Apple wrote in its July 2 statement on iPhone signal issues, "we sometimes display 4 bars when we should be displaying as few as 2 bars." The new, more accurate formula that Apple adopted in iOS 4.0.1 was actually recommended by AT&T to all of its cell phone partners, not just Apple. So far, I have yet to see announcements from other phone manufacturers of their reaction to AT&T's new formula or whether they plan to adopt it in similar software updates.
Eessentially, the changes Apple made in its iOS 4.0.1 update boil down to making the iPhone 4 (as well as the 3G and 3GS) more honest—at least when it comes to signal strength.
For example: in the Chicago neighborhood where I live, my iPhone 4 usually shows five bars even if I pick it up. Previously, if I held it the "wrong way," I could get my signal to drop to just one bar, but I could never completely kill it to the "Searching…" mode. With iOS 4.0.1, I can only get my signal to drop to three bars.
Clearly, I live under good coverage, and the problem doesn't affect me as much as, say, Macworld's editorial director Jason Snell.
"For me it takes what was a 4 bar signal in my bedroom and makes it 3 bars," Snell explained. "When I touch in that bottom left corner it takes it down to 1 bar, which I believe is what it did before. Grip it the wrong way, and I get no data at all."
Senior associate editor Dan Moren hasn't had much luck either: "Other than the size of the bars, I'm not seeing an appreciable difference." Dan doesn't get great reception in his Boston apartment to begin with, but he "can still kill the data signal by holding my thumb over the bottom left end. Also, I appear to be able to get calls to drop and, for some numbers, I can just get the volume to cut out by bridging the circuit."
To understand what Apple actually changed with this software update, I recommend reading, or at least skimming, AnandTech's thorough, four-page investigation. In short: the signal attenuation problem from holding an iPhone 4 in the left hand the "wrong way" is still in effect, but the iPhone 4 should be more sensitive to its actual signal performance in those situations.
The real change Apple made was that it spread out iOS's scale for measuring, reporting, and acting on its signal strength. Previously, iOS placed a disproportionate weight on the fifth bar, literally doing what Apple described in its letter: When an iPhone 4 (or 3GS or 3G, or other phones, for that matter), received a signal worthy of what is really only three bars (-87 dBm—decibels referenced to 1 milliwatt—or lower), it was reporting five bars.
Now, under iOS 4.0.1, the signal range is spread out much more proportionately between the five bars. Just as important, though, iOS's sensitivity for maintaining a call or data connection at extremely low signal levels was actually improved somewhat. Previously, its drop-off limit was -113 dBm, now it's -121 dBm. In AnandTech's tests, they were able to hang onto calls and data transfers at the extremely low -121 dBm limit of the iPhone 4's reception threshold.
But just as mere mortals cannot bend the laws of space and time, a software update like this cannot do anything about Apple's controversial hardware design choice of wrapping what was previously an internal antenna around the outside of the phone. Human flesh is unfortunately a conductor of cell phone signals, so merely touching the phone's antenna in any place (not just the "death grip" area) results in some notable, though not mortal, signal attenuation.
Of course, we'll have to wait until Apple's iPhone 4 press conference on Friday— which you can follow live—to hear what will likely be the company's final word on this subject. If a Wall Street Journal story is to be believed, a "personal familiar with the matter" told the publication that Apple does not plan to recall the iPhone 4. Whether you're on the fence about buying an iPhone 4 or returning one you already own, Thursday's software update, combined with Apple's statements on Friday, are sure to provide everything you need to know to make an informed decision about whether the iPhone 4 is the right phone for you.