Are you obsessed with the movie and film series Twilight? Do you self-identify as a "Twi-hard"? If you do, you probably don't need a trivia game to prove it—but here's one anyway! Developed by GameHouse, The Twilight Saga Eclipse Movie Game is a trivia application for only the most dedicated of Twilight fans, featuring hi-res images from the movies and questions only the true fan would know the answers to. While the average movie-goer may think the Vampire/Werewolf teenage romance series only has three characters, there are over twenty-one characters to learn about and obsess over.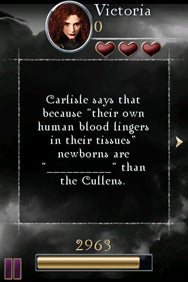 The game is a pretty straightforward question and answer game. There are two types of play—single player, which is a "survival mode" (you have three lives/can get three questions wrong before the game is over), and multiplayer, which pits you against up to four other players. In each mode, you can choose one of 21—that's right, 21—Twilight characters to represent you. In multiplayer mode, each player can choose a separate character, and choose whether the game goes on for 5, 10, or 20 questions (in single player mode the questions keep coming until you're out of lives.
The game presents a series of multiple-choice questions that you much answer in a set amount of time (the faster you answer each question, the higher your score). Questions range from trivia about the Twilight series that only true Twi-hards will know the answer to, to more general picture-based questions (where you are shown a picture and then asked a question about the picture) that less dedicated fans might be able to ace. In multiplayer mode, each player has a chance to answer the same question before moving onto the next (yeah, you get to pass the iPhone around).
If you're a Twilight fan, this game is worth the download—since it's free. You'll get to prove to all of your friends that you are the most insane of the Twi-hards, and you might even get to see a few sexy snaps of a shirtless Taylor Lautner. However, if you're not particularly versed in the movies, this game is probably not worth the download. The only thing that might save your score are the occasional questions that show you a picture and then ask things specifically about that picture (such as, "What color shirt was she wearing?"). Bottom line: if you like Twilight, go for it; if you're not a Twilight fan…why torture yourself?
[Sarah Jacobsson is totally on Team Jacob.]